Oregon Wildfires And Straight-line Winds (DR-4562-OR)
This is an active disaster. Apply for assistance.
Incident Period: September 7, 2020 and continuing.
Declaration Date: September 15, 2020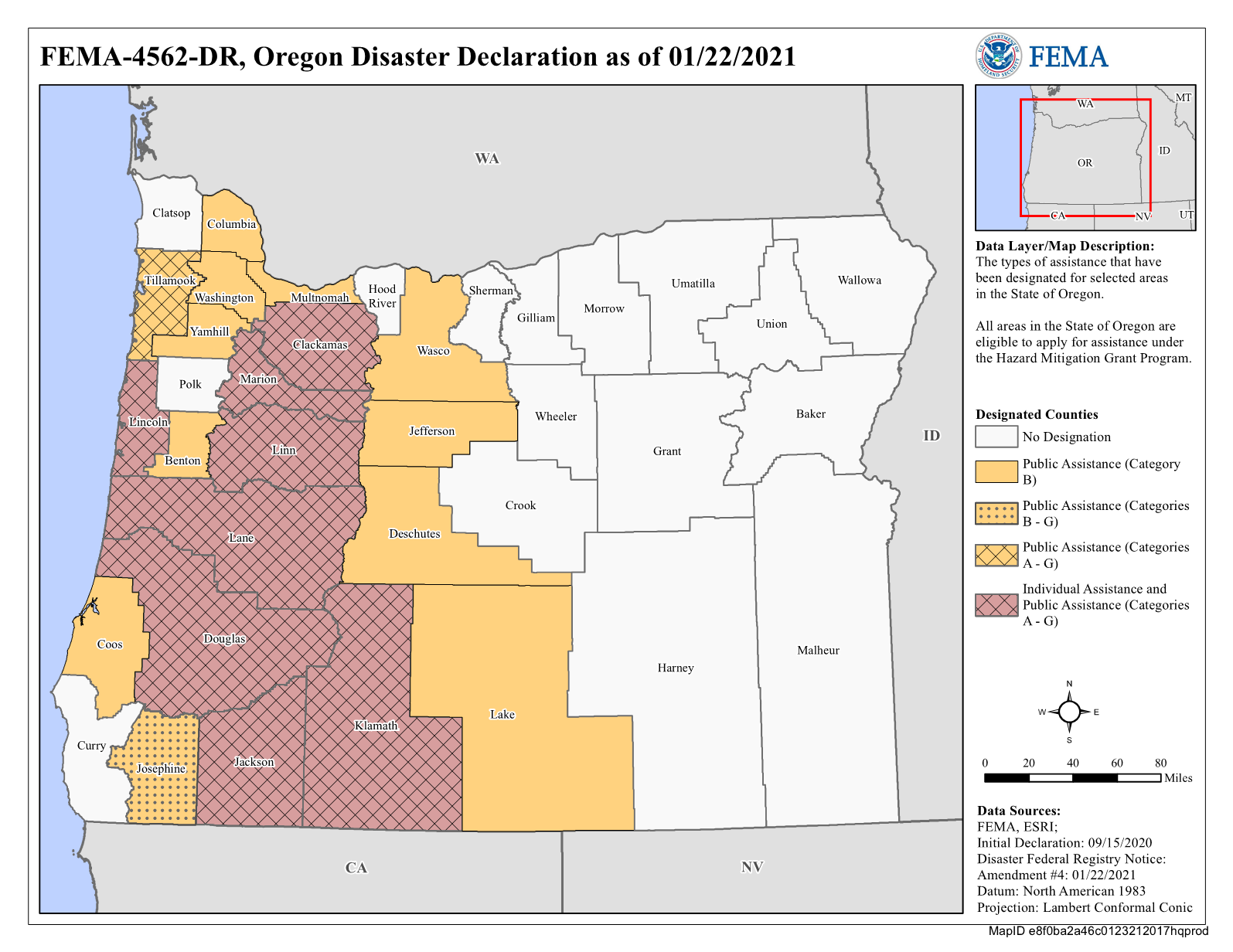 Apply for FEMA Assistance
Registration is open for those affected by wildfires in Clackamas, Douglas, Jackson, Klamath, Lane, Lincoln, Linn, and Marion counties. Register by visiting www.DisasterAssistance.gov, calling 800-621-3362 or using the FEMA app.
I Applied For Assistance. What's Next?
You will receive notification letters from FEMA either by U.S. mail or by electronic correspondence. You may need to verify your identity or complete a home inspection.
Learn About the Steps After Applying | Steps To Start Your Recovery Proces
Stay Informed
Stay informed by calling 211 or visiting wildfire.oregon.gov. This Oregon Wildfire Resource website includes the latest information and resources available to those affected by wildfires.
Be Safe
If you are in an evacuation zone, heed warnings, and follow local official recommendations without delay. If you are in a safe place, you can help by staying off the road.
FEMA Speaks Your Language
Translated into 27 languages, the "Help After a Disaster" brochure is a tool that can be shared in your community to help people understand the types of FEMA Individual Assistance support that may be available in disaster recovery.
Additional Resources
Financial Assistance
| Individual Assistance | Amount |
| --- | --- |
| Total Housing Assistance (HA) - Dollars Approved | $2,921,365.72 |
| Total Other Needs Assistance (ONA) - Dollars Approved | $1,856,364.75 |
| Total Individual & Households Program Dollars Approved | $4,777,730.47 |
| Individual Assistance Applications Approved | 1262 |
| Public Assistance | Amount |
| --- | --- |
| Total Public Assistance Grants Dollars Obligated | $0.00 |
| Hazard Mitigation Assistance | Amount |
| --- | --- |
| Hazard Mitigation Grant Program (HMGP) - Dollars Obligated | $0.00 |
Designated Counties (Individual Assistance)
Clackamas (County)
Douglas (County)
Jackson (County)
Klamath (County)
Lane (County)
Lincoln (County)
Linn (County)
Marion (County)
Preliminary Damage Assessment Documents
Last updated Sep 22, 2020