California Wildfires (DR-4558-CA)
This is an active disaster. Apply for assistance.
Incident Period: August 14, 2020 and continuing.
Declaration Date: August 22, 2020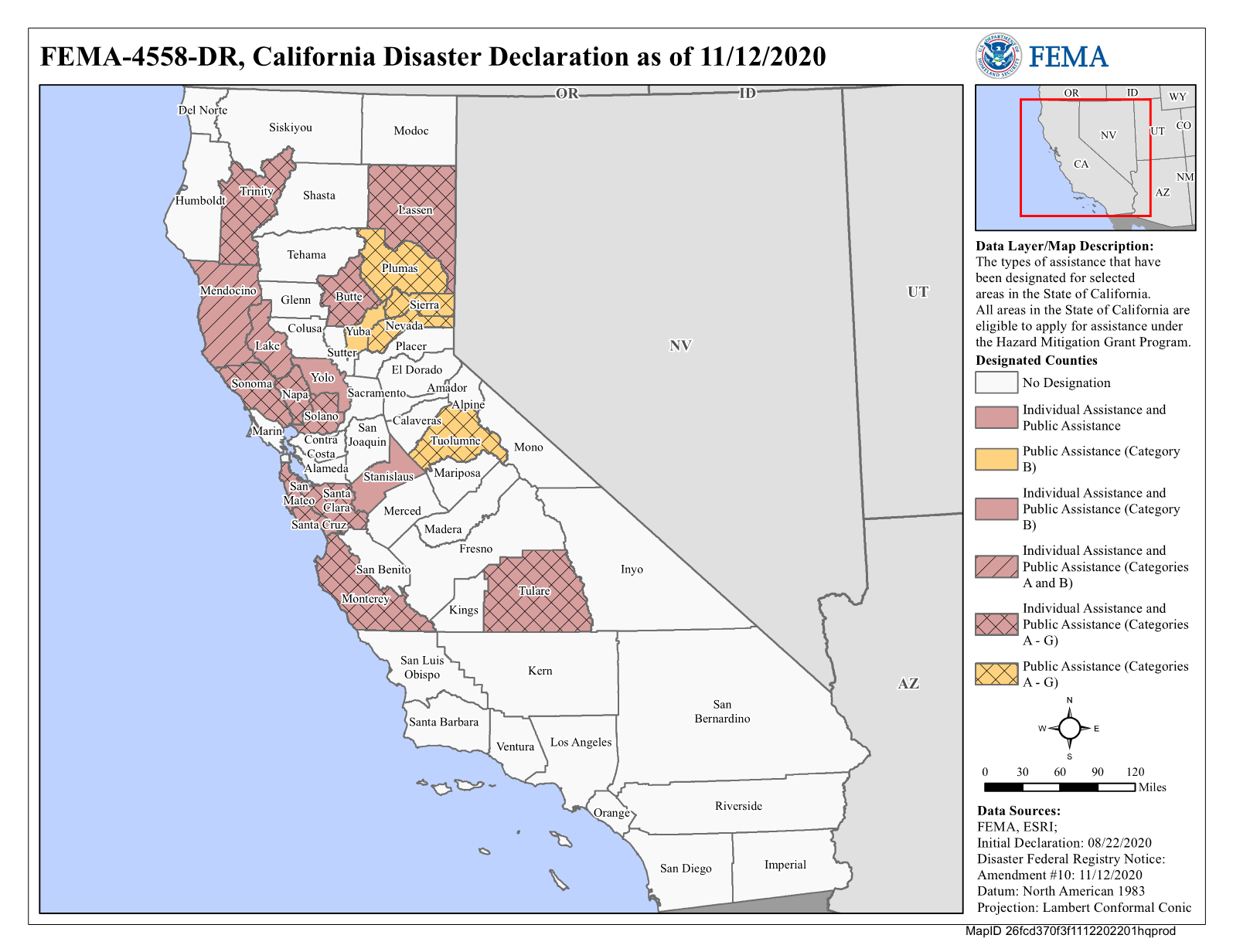 Quick Links
Financial Assistance
| Individual Assistance | Amount |
| --- | --- |
| Total Housing Assistance (HA) - Dollars Approved | $11,215,293.63 |
| Total Other Needs Assistance (ONA) - Dollars Approved | $3,093,920.07 |
| Total Individual & Households Program Dollars Approved | $14,309,213.70 |
| Individual Assistance Applications Approved | 2555 |
| Public Assistance | Amount |
| --- | --- |
| Total Public Assistance Grants Dollars Obligated | $0.00 |
| Hazard Mitigation Assistance | Amount |
| --- | --- |
| Hazard Mitigation Grant Program (HMGP) - Dollars Obligated | $0.00 |
Apply for Assistance
If you were impacted by the wildfires in Butte, Lake, Lassen, Monterey, Napa, San Mateo, Santa Clara, Santa Cruz, Solano, Sonoma, Tulare and Yolo counties, you may be eligible for FEMA assistance.
I Applied For Assistance. What's Next?
You will receive notification letters from FEMA either by U.S. mail or by electronic correspondence. You may need to verify your identity or complete a home inspection.
Learn About the Steps After Applying | Steps To Start Your Recovery Process
"Help After a Disaster" Brochures
Translated into 27 languages, the "Help After a Disaster" brochure is a tool that can be shared in your community to help people understand the types of FEMA Individual Assistance support that may be available in disaster recovery.
Mobile Registration Intake Center
FEMA has opened a Mobile Registration Intake Center (MRIC) in Butte, Santa Clara, and Tulare counties. Visitors can register for FEMA assistance, check the status of their applications, find information about programs and agencies that can help speed their recovery, and receive answers to questions, review information within their determination letter from FEMA or finding out whether they can still receive assistance if they have insurance.
Butte County MRIC
Tractor Supply Company
2000 Feather River Blvd., Oroville CA 95965 (across from the Oroville Local Assistance Center)
Monday – Friday, 10 a.m. to 6 p.m. Saturdays, 10 a.m. to 4 p.m. Closed Sundays.
Santa Clara County MRIC
CAL FIRE Smith Creek Fire Station
22805 Mount Hamilton Rd., Mount Hamilton, CA 95140
Sunday – Saturday, 10 a.m. to 5 p.m.
*This center will close October 21 at 5 p.m.
Tulare County MRIC
Tulare County Government Plaza
1055 W. Henderson Ave, Porterville, CA 93457
Monday—Friday, 8 a.m. to 5 p.m.
Saturday—Sunday, 9 a.m. to 3 p.m.
Remote Inspections
If you have uninsured or underinsured losses from the recent California wildfires and have registered with the FEMA, the next step is the home inspection. All inspections will be conducted by phone due to COVID-19 and the need to protect the safety and health of our workforce and survivors.
Details about remote inspections can be found here: Individual and Households Program: Remote Inspections
U.S. Small Business Administration
The U.S. Small Business Administration (SBA) has established a Virtual Disaster Loan Outreach Center to help homeowners and renters. Customer service representatives are available to assist business owners and individuals to answer questions about SBA's disaster loan program, explain the application process and help each person complete their electronic loan application.
Virtual Business Recovery Center and Virtual Disaster Loan Outreach Center | Mondays – Fridays | 9:00 a.m. – 6:00 p.m. | FOCWAssistance@sba.gov | (916) 735-1500
News and Information In Other Languages
Designated Counties (Individual Assistance)
Butte (County)
Lake (County)
Lassen (County)
Monterey (County)
Napa (County)
San Mateo (County)
Santa Clara (County)
Santa Cruz (County)
Solano (County)
Sonoma (County)
Trinity (County)
Tulare (County)
Yolo (County)
Last updated October 21, 2020