North Carolina Tornado And Severe Storms (DR-4364-NC)
Incident Period: April 15, 2018
Declaration Date: May 8, 2018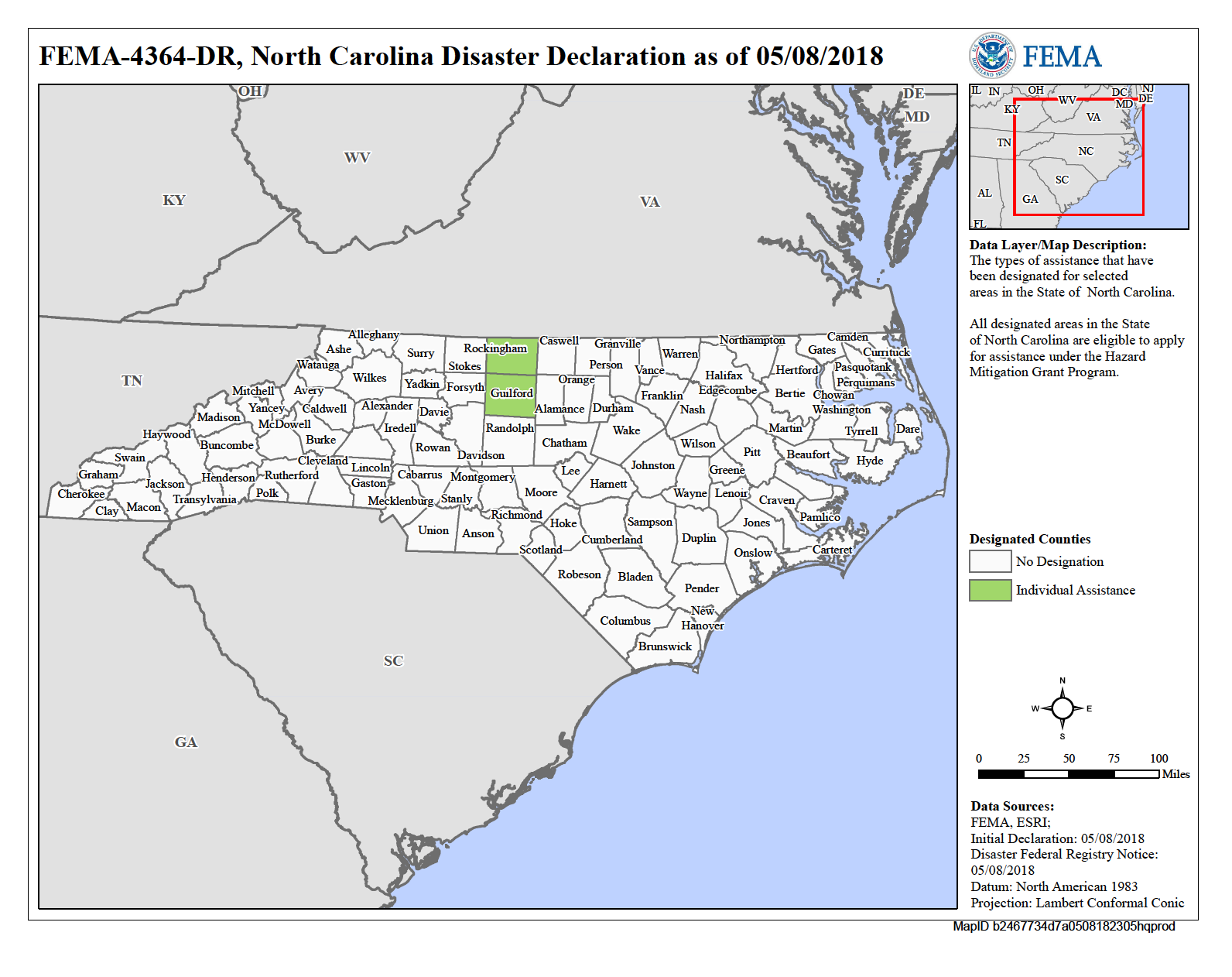 Applying for Assistance
Homeowners, renters and business owners in Guilford and Rockingham counties are urged to register with the Federal Emergency Management Agency, as they may be eligible for disaster assistance. Deadline to register is July 9, 2018
Ways to Register:
Information You Will Need:
Social Security number
Address of the damaged home or apartment
Description of the damage
Information about insurance coverage
A current contact telephone number
An address where you can receive mail
Bank account and routing numbers for direct deposit of funds
What to Expect After You Apply
Once homeowners register with the Federal Emergency Management Agency, a FEMA housing inspector will call to schedule an inspection for those living in designated counties. Here's what survivors need to know about the inspection process:
Everyone should know:
The FEMA inspector will show a photo ID badge.
If you are not shown photo identification, then do not allow the inspection.
If you suspect someone is posing as a FEMA inspector, call your local law enforcement agency.
You may receive visits from more than one inspector. Other inspectors may represent federal, state, parish and local government agencies, the U.S. Small Business Administration, the National Flood Insurance Program and/or insurance companies.
Representatives of volunteer agencies may contact you to offer their services.
Before the FEMA inspection, it's important that you know:
An adult 18 or older who lived in the residence before the disaster must be present for the inspection.
That person must have the following documents:

Photo identification;
Proof of ownership and occupancy of the damaged residence such as: property tax bill; mortgage payment bill or receipt, or utility service bill;
Homeowner and vehicle insurance documents;
List of persons living in residence at time of disaster that you compiled; and
List of disaster damage to the home and its contents that you compiled.
Financial Assistance
| Individual Assistance | Amount |
| --- | --- |
| Total Housing Assistance (HA) - Dollars Approved | $399,313.66 |
| Total Other Needs Assistance (ONA) - Dollars Approved | $324,173.19 |
| Total Individual & Households Program Dollars Approved | $723,486.85 |
| Individual Assistance Applications Approved | 230 |
| Public Assistance | Amount |
| --- | --- |
| Total Public Assistance Grants Dollars Obligated | $0.00 |
| Hazard Mitigation Assistance | Amount |
| --- | --- |
| Hazard Mitigation Grant Program (HMGP) - Dollars Obligated | $82,837.45 |
News and Information
No articles have been tagged with this disaster.
Designated Counties (Individual Assistance)
Guilford (County)
Rockingham (County)
Preliminary Damage Assessment Documents
Last updated September 15, 2020