Louisiana Hurricane Laura (DR-4559-LA)
This is an active disaster. Apply for assistance.
Incident Period: August 22, 2020 - August 27, 2020
Declaration Date: August 28, 2020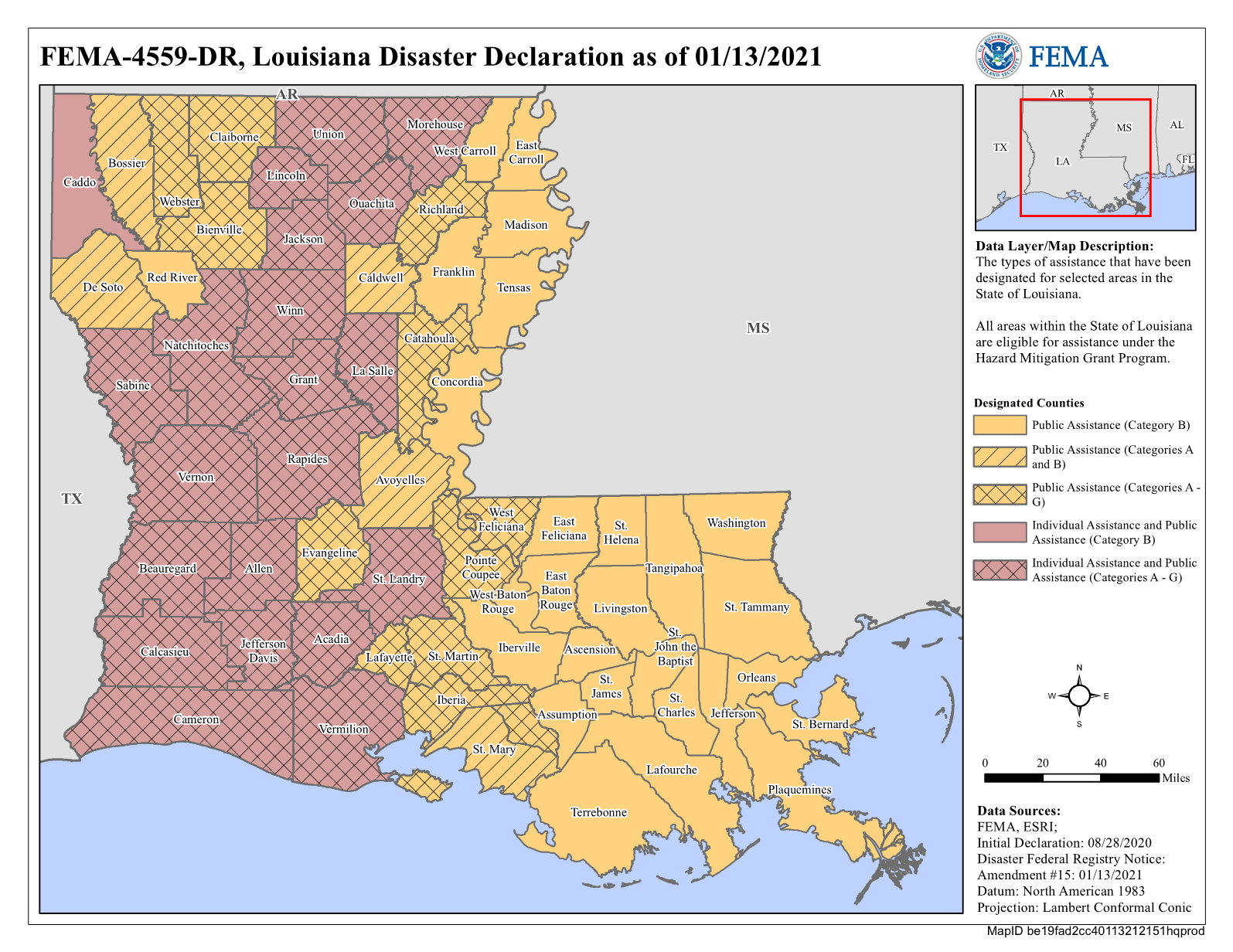 Financial Assistance
| Individual Assistance | Amount |
| --- | --- |
| Total Housing Assistance (HA) - Dollars Approved | $139,707,346.83 |
| Total Other Needs Assistance (ONA) - Dollars Approved | $62,524,672.94 |
| Total Individual & Households Program Dollars Approved | $202,232,019.77 |
| Individual Assistance Applications Approved | 72570 |
| Public Assistance | Amount |
| --- | --- |
| Emergency Work (Categories A-B) - Dollars Obligated | $1,916,524.78 |
| Total Public Assistance Grants Dollars Obligated | $1,916,524.78 |
| Hazard Mitigation Assistance | Amount |
| --- | --- |
| Hazard Mitigation Grant Program (HMGP) - Dollars Obligated | $0.00 |
Local Resources
Videos
Photos
Our teams are working hard to support state and local partners in response to Hurricane Laura. Visit our media collection to see more of their support in action.
Drive-thru Disaster Recovery Centers
Survivors can visit drive-thru Disaster Recovery Centers to have their documents scanned into their case file or ask questions about federal disaster assistance.
The centers operates under strict COVID-19 protocols to ensure visitors are safe.
Masks or face coverings are required for entry and service. You will remain in your car. A specialist wearing a face mask will receive your documents through the window and return them to you.
No appointments are necessary. Hours of operation are 7 a.m. to 5 p.m. seven days a week.
Survivors can visit the DRC section of the Louisiana state page for more detailed information on locations and dates of availability.
Click Here to view the Disaster Mobile Registration Intake Centers (MRIC) locations.
How To Help
Voluntary
Recovery will take many years after a disaster. Cash is the best way to help those in need.
Find a reputable organization through the National Voluntary Organizations Active in a Disaster (NVOAD) website.
Doing Business With FEMA
If you are interested in providing paid services and goods for Hurricane Laura relief, follow the steps on our Doing Business with FEMA page to get started.
Help After A Disaster
I Applied For Assistance. What's Next?
You will receive notification letters from FEMA either by U.S. mail or by electronic correspondence. You may need to verify your identity or complete a home inspection.
Learn About the Steps After Applying | Steps To Start Your Recovery Process
"Help After a Disaster" Brochures
Translated into 27 languages, the "Help After a Disaster" brochure is a tool that can be shared in your community to help people understand the types of FEMA Individual Assistance support that may be available in disaster recovery.
Tips for Rebuilding Stronger
Community Education Specialists are available to answer your repairing/rebuilding questions to make your home safer and stronger. Send your questions to FEMA-MitOutreach-4559@fema.dhs.gov
Click on https://fema.connectsolutions.com/lauramit for links to retrofitting & repairing your home. Have questions on making repairs? Call a Community Education Specialist at 866-579-0820, Monday through Friday, anytime between 8 a.m. and 6 p.m. CST.
News and Information In Other Languages
.
Designated Counties (Individual Assistance)
Acadia (Parish)
Allen (Parish)
Beauregard (Parish)
Caddo (Parish)
Calcasieu (Parish)
Cameron (Parish)
Grant (Parish)
Jackson (Parish)
Jefferson Davis (Parish)
La Salle (Parish)
Lincoln (Parish)
Morehouse (Parish)
Natchitoches (Parish)
Ouachita (Parish)
Rapides (Parish)
Sabine (Parish)
St. Landry (Parish)
Union (Parish)
Vermilion (Parish)
Vernon (Parish)
Winn (Parish)
Last updated November 26, 2020