Texas Hurricane Harvey (DR-4332-TX)
Incident Period: August 23, 2017 - September 15, 2017
Declaration Date: August 25, 2017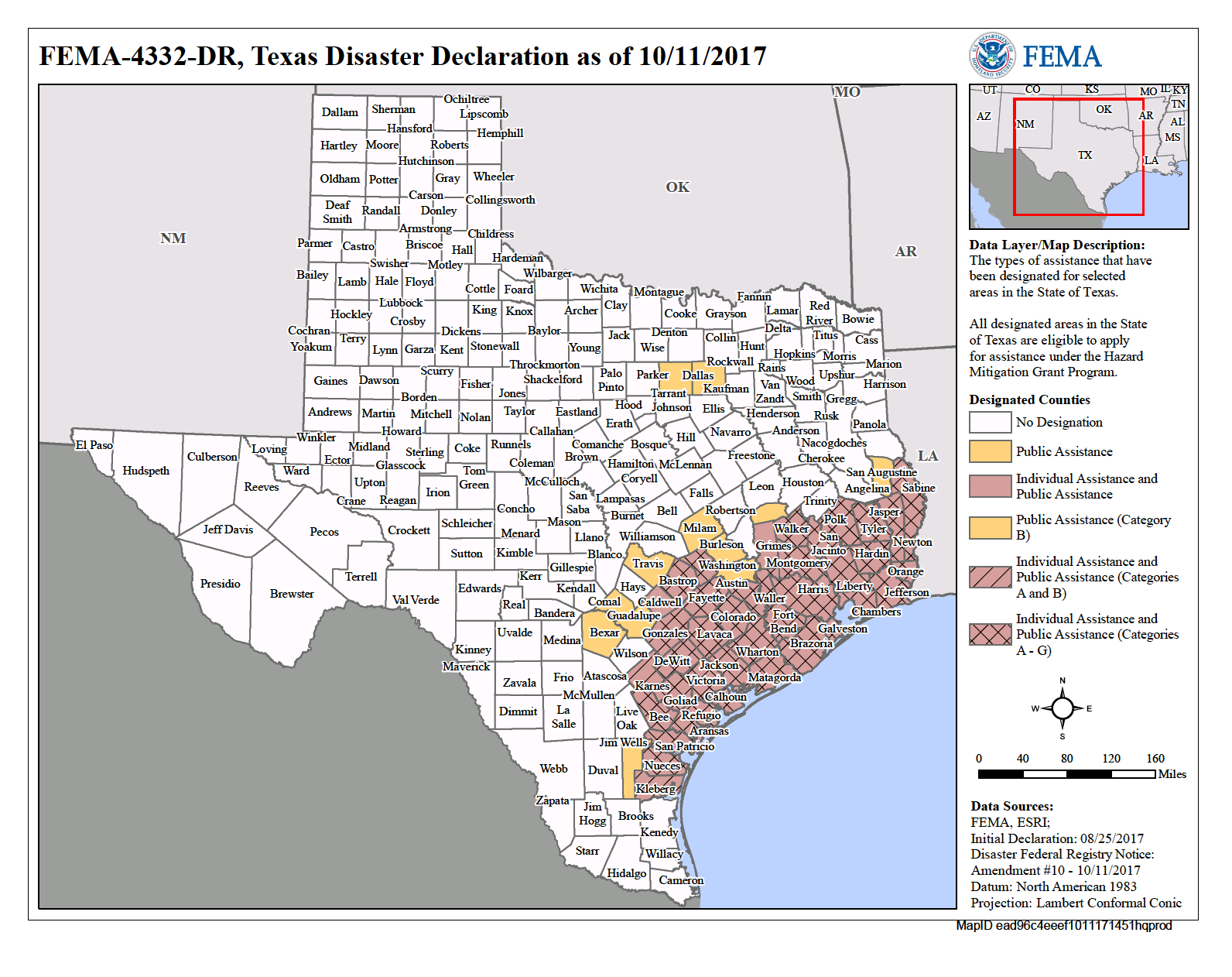 Financial Assistance
| Individual Assistance | Amount |
| --- | --- |
| Total Housing Assistance (HA) - Dollars Approved | $1,243,252,850.20 |
| Total Other Needs Assistance (ONA) - Dollars Approved | $413,645,530.30 |
| Total Individual & Households Program Dollars Approved | $1,656,898,380.50 |
| Individual Assistance Applications Approved | 373150 |
| Public Assistance | Amount |
| --- | --- |
| Emergency Work (Categories A-B) - Dollars Obligated | $1,280,747,297.92 |
| Permanent Work (Categories C-G) - Dollars Obligated | $866,635,931.21 |
| Total Public Assistance Grants Dollars Obligated | $2,317,227,680.40 |
| Hazard Mitigation Assistance | Amount |
| --- | --- |
| Hazard Mitigation Grant Program (HMGP) - Dollars Obligated | $274,074,674.52 |
Subscribe to our email list to receive timely Texas Hurricane Harvey recovery updates, information and resources.
Like us on Facebook | Follow us on Twitter
Resources to Help you Recover
Visit the Office of the Texas Governor's website at gov.texas.gov/hurricane to find links to recovery pages such as RebuildTexas and HoustonRecovers, consumer protection and insurance help lines and other services.
Interact with us, join the conversation and get breaking updates on the FEMA Harvey Facebook page at facebook.com/FEMAHarvey/ and follow us @FEMARegion6. For program fact sheets and recovery guidance, visit FEMA.gov/Hurricane-Harvey/.
FEMA's Texas Hurricane Harvey disaster web page includes resources and helpful information for your recovery. Also, find fact sheets and other helpful links on:
Immediate Disaster Case Management. Call the U.S. Department of Health and Human Services at 855-742-5989 to talk with trained case managers who can assist recovery by referring you to available resources.
If you need help cleaning up your flood-damaged home, call (844) 965-1386. In support of Texas 2-1-1, the Cleanup Assistance Helpline is helping connect Texas survivors with the services they need in their community.
Crisis Counseling. Call the federal Disaster Distress Help Line at 800-985-5990 or text TalkWithUs to 66746 to talk to a professional who can help you cope with emotional distress from the storm.
Help for veterans. Call the U.S. Department of Veterans Affairs' Health Resource Center Disaster Hotline at 800-507-4571 or visit the VA website at va.gov/.
Older adults and those with disabilities or access or functional needs. Contact your local independent living center, or call the Texas Health and Human Services Commission's Aging and Disability Resource Center at 855-937-2372. You can also visit its website, hhs.texas.gov/services/aging/long-term-care/aging-disability-resource-center.
Disaster Unemployment Assistance (DUA). If you are out of work or lost income due to Hurricane Harvey and do not qualify for regular unemployment benefits, you may be eligible for DUA. Visit the Texas Workforce Commission website at twc.state.tx.us/ to apply.
Job Search. If you lost your job due to Harvey, visit WorkInTexas.com or the Texas Workforce Commission website at twc.state.tx.us/ for information.
Disaster Legal Services. Call the Disaster Hotline at 800-504-7030 to receive free legal assistance. Visit the National Disaster Legal Aid website at disasterlegalaid.org/txhurricaneharvey/ for other sources of legal assistance.
Tax relief. Visit the IRS website at irs.gov/newsroom/tax-relief-for-victims-of-hurricane-harvey-in-texas for information on tax relief for Harvey survivors.
Stay in touch with FEMA. If you haven't registered, need to update changes to your contact information or find more information on types of assistance, call FEMA at 800-621-3362 or go online at DisasterAssistance.gov.
FEMA provides information in alternate formats, including these foreign languages: Spanish, Vietnamese, Chinese, Arabic, Burmese, Cambodian, Hindi, Korean, Tagalog, Thai and Urdu.
Resources
How to Help
To help people affected by the storm, visit @nvoad's page for a listed of trusted organizations: https://txvoad.communityos.org/cms/node/104
Cash is best. Financial contributions to recognized disaster relief organizations are the fastest, most flexible, and most effective method of donating. Organizations on the ground know what items and quantities are needed, often buy in bulk with discounts and, if possible, purchase through area businesses which supports economic recovery.
Confirm donations needed. Critical needs change rapidly – confirm needed items BEFORE collecting; pack and label carefully; confirm delivery locations; arrange transportation. Unsolicited goods NOT needed burden local organizations' ability to meet survivors' confirmed needs, drawing away valuable volunteer labor, transportation, and warehouse space.
Connect to volunteer. Trusted organizations operating in the affected area know where volunteers are needed and can ensure appropriate volunteer safety, training, and housing.
Thank you for your interest in helping the survivors of Hurricane Harvey, there are other ways to help. When disaster strikes, America looks to FEMA to support survivors and first responders in communities all across the country. We are currently seeking talented and hard-working people to help support the response and recovery.
Designated Counties (Individual Assistance)
Aransas (County)
Austin (County)
Bastrop (County)
Bee (County)
Brazoria (County)
Caldwell (County)
Calhoun (County)
Chambers (County)
Colorado (County)
DeWitt (County)
Fayette (County)
Fort Bend (County)
Galveston (County)
Goliad (County)
Gonzales (County)
Grimes (County)
Hardin (County)
Harris (County)
Jackson (County)
Jasper (County)
Jefferson (County)
Karnes (County)
Kleberg (County)
Lavaca (County)
Lee (County)
Liberty (County)
Matagorda (County)
Montgomery (County)
Newton (County)
Nueces (County)
Orange (County)
Polk (County)
Refugio (County)
Sabine (County)
San Jacinto (County)
San Patricio (County)
Tyler (County)
Victoria (County)
Walker (County)
Waller (County)
Wharton (County)
Preliminary Damage Assessment Documents
Last updated September 26, 2020