Georgia Hurricane Matthew (DR-4284-GA)
Incident Period: October 4, 2016 - October 15, 2016
Declaration Date: October 8, 2016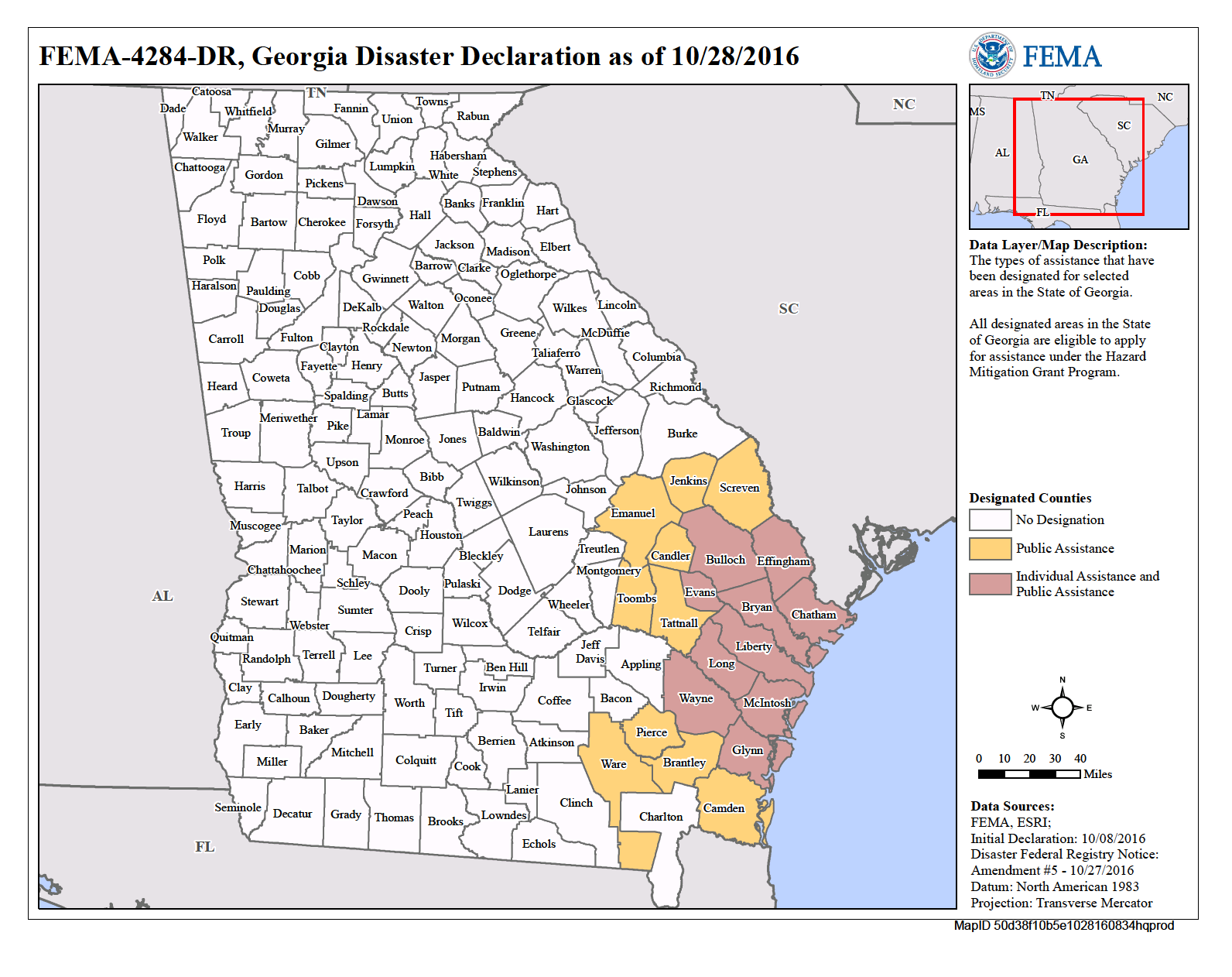 What to Expect After You Apply
Once homeowners register with the Federal Emergency Management Agency, a FEMA housing inspector will call to schedule an inspection for those living in designated counties. Here's what survivors need to know about the inspection process:
Everyone should know:
The FEMA inspector will show a photo ID badge.
If you are not shown photo identification, then do not allow the inspection.
If you suspect someone is posing as a FEMA inspector, call your local law enforcement agency.
You may receive visits from more than one inspector. Other inspectors may represent federal, state, parish and local government agencies, the U.S. Small Business Administration, the National Flood Insurance Program and/or insurance companies.
Representatives of volunteer agencies may contact you to offer their services.
Before the FEMA inspection, it's important that you know:
An adult 18 or older who lived in the residence before the disaster must be present for the inspection.
That person must have the following documents:

Photo identification;
Proof of ownership and occupancy of the damaged residence such as: property tax bill; mortgage payment bill or receipt, or utility service bill;
Homeowner and vehicle insurance documents;
List of persons living in residence at time of disaster that you compiled; and
List of disaster damage to the home and its contents that you compiled.
Most important to know:
You cannot get an inspection without registering with FEMA.

Call 800-621-FEMA (3362). For TTY call 800-462-7585. People who use 711 or Video Relay Service (VRS) can call 800-621-3362.
You can register online at www.disasterassistance.gov.
You can register with FEMA at a Disaster Recovery Center.
If you have questions, FEMA's toll-free telephone numbers operate from 7 a.m. to 11 p.m. (local time) seven days a week until further notice
How To Appeal
To appeal the final decision of your disaster individual assistance, do the following steps:
1. Explain in writing why you disagree with the decision
2. Include your FEMA registration number located on your decision letter, date and place of birth, full name, and address.
3. Letter must be notarized
4. Include a copy of a state-issued identification card or the following statement: "I hereby declare under penalty of perjury that the foregoing is true and correct."
5. Insert supporting documents such as contractor estimates and insurance claim
6. Mail your appeal letter to
FEMA
National Processing Service Center
PO Box 10055
Hyattsville, MD 20782
Important: Letter must be post marked within 60 days of receiving your decision letter.
Beware of Fraud & Scams When Seeking Disaster Assistance
After a disaster scam artists, identity thieves and other criminals may attempt to prey on vulnerable survivors. The most common post-disaster fraud practices include phony housing inspectors, fraudulent building contractors, bogus pleas for disaster donations and fake offers of state or federal aid.
Survivors should keep in mind:
Federal and state workers never ask for, or accept money, and always carry identification badges
There is NO FEE required to apply for or to get disaster assistance from FEMA, the U.S. Small Business Administration or the state
Scam attempts can be made over the phone, by mail or email, text or in person
Price Gouging
Price gouging occurs when a supplier marks up the price of an item more than is justified by his actual costs. Survivors are particularly susceptible because their needs are immediate, and have few alternatives to choose from. If you find price gouging, contact your State's Office of the Attorney General.
Dealing with Contractors:
Survivors should take steps to protect themselves and avoid fraud when hiring contractors to clean property, remove debris or make repairs.
Simple rules to avoid becoming a victim of fraud:
Only use contractors licensed by your state
Get a written estimate and get more than one estimate
Demand and check references
Ask for proof of insurance

i.e., liability and Workmen's Compensation

Insist on a written contract and refuse to sign a contract with blank spaces
Get any guarantees in writing
Make final payments only after the work is completed
Pay by check.
The best way to avoid fraud is to arm yourself against it by having a checklist to remind you of what you need to demand when hiring a contractor.
Charitable Giving Scams
Donating money or supplies to the relief effort is another way to help survivors. Be alert to scams during an emergency. Learn more about donating.
If you are aware of a potential charity scam, you can report it to the state consumer affairs or attorney general's office:
Those who question the validity of a contact or suspect fraud are encouraged to call the toll free FEMA Disaster Fraud Hotline at 866-720-5721. Complaints also may be made by contacting local law enforcement agencies.

Tips for Clean-Up
Below are a few simple guidelines to follow that will make the clean-up and salvage process safer and easier:
Always wear protective clothing including long-sleeved shirts, long pants, rubber or plastic gloves and waterproof boots or shoes.

Before entering your home, look outside for damaged power lines, gas lines and other exterior damage.

Take photos of your damage before you begin clean up and save repair receipts.

Your home may be contaminated with mold, which raises the health risk for those with asthma, allergies and breathing conditions. Refer to the Center for Disease Control for more info on mold: www.cdc.gov/disasters/hurricanes/pdf/flyer-get-rid-of-mold.pdf.

Open doors and windows so your house can air out before spending any length of time inside.

Turn off main electrical power and water systems and don't use gas appliances until a professional can ensure they are safe.

Check all ceilings and floors for signs of sagging or other potentially dangerous structural damage.

Throw out all foods, beverages and medicines exposed to flood waters or mud including canned goods and containers with food or liquid.

Also, throw out any items that absorb water and cannot be cleaned or disinfected (mattresses, carpeting, stuffed animals, etc.).

Beware of snakes, insects, and other animals that may be on your property or in your home.

Remove all drywall and insulation that has been in contact with flood waters.

Clean all hard surfaces (flooring, countertops, appliances, sinks, etc.) thoroughly with hot water and soap or detergent.
How to Help
When disaster strikes, every little bit helps. To make the most of your contributions, please follow our guidelines to learn the most effective and safest ways to donate cash, goods, or time following a disaster.
Cash is best. Financial contributions to recognized disaster relief organizations are the fastest, most flexible, and most effective method of donating. Organizations on the ground know what items and quantities are needed, often buy in bulk with discounts and, if possible, purchase through area businesses which supports economic recovery.
Confirm donations needed. Critical needs change rapidly – confirm needed items BEFORE collecting; pack and label carefully; confirm delivery locations; arrange transportation. Unsolicited goods NOT needed burden local organizations' ability to meet survivors' confirmed needs, drawing away valuable volunteer labor, transportation, and warehouse space.
Connect to volunteer. Trusted organizations operating in the affected area know where volunteers are needed, and can ensure appropriate volunteer safety, training, and housing.
States affected by Hurricane Matthew have provided the following additional information on the best ways to help survivors.
GEORGIA
Please volunteer and donate responsibly. For information on volunteering in Georgia, email volunteer@gemhsa.ga.gov.
Financial Assistance
| Individual Assistance | Amount |
| --- | --- |
| Total Housing Assistance (HA) - Dollars Approved | $5,306,453.19 |
| Total Other Needs Assistance (ONA) - Dollars Approved | $1,304,724.68 |
| Total Individual & Households Program Dollars Approved | $6,611,177.87 |
| Individual Assistance Applications Approved | 2093 |
| Public Assistance | Amount |
| --- | --- |
| Emergency Work (Categories A-B) - Dollars Obligated | $73,606,897.56 |
| Permanent Work (Categories C-G) - Dollars Obligated | $19,037,482.62 |
| Total Public Assistance Grants Dollars Obligated | $95,526,313.18 |
Public Notice
The Federal Emergency Management Agency (FEMA) hereby gives notice to the public of its intent to reimburse eligible applicants for eligible costs to repair or replace facilities damaged by Hurricane Matthew occurring October 4 through October 15, 2016. This notice applies to the Public Assistance (PA), Individual Assistance (IA), and Hazard Mitigation Grant (HMGP) programs implemented under the authority of the Robert T. Stafford Disaster Relief and Emergency Assistance Act, 42 U.S.C. §§ 5121- 5207.
Under a major disaster declaration FEMA-4284-DR-GA signed by the President on October 8, 2016 (and amended on October 15, 2016, October 17, 2016, and October 20, 2016), the following counties have been designated adversely affected by the disaster and eligible for IA: Bryan, Bulloch, Chatham, Effingham, Evans, Glynn, Liberty, Long, McIntosh, and Wayne; and for PA, Categories A-G:
Brantley, Bryan, Bulloch, Camden, Candler, Chatham, Effingham, Emanuel, Evans, Glynn, Jenkins, Liberty, Long, McIntosh, Pierce, Screven, Tattnall, Toombs, Ware, and Wayne.
Additional counties may be designated at a later date without further public notice. The Hazard Mitigation Grant Program (HMGP) is available statewide.
This public notice concerns activities that may affect historic properties, activities that are located in or affect wetland areas or the 100-year floodplain, and critical actions within the 500-year floodplain. Such activities may adversely affect the historic property and floodplain or wetland, or may result in continuing vulnerability to flood damage.
Presidential Executive Orders 11988 and 11990 require that all federal actions in or affecting the floodplain or wetlands be reviewed for opportunities to relocate and evaluated for social, economic, historic, environmental, legal, and safety considerations. Where there is no opportunity to relocate, FEMA is required to undertake a detailed review to determine what measures may be taken to minimize future damages. The public is invited to participate in the process of identifying alternatives and analyzing their impacts.
FEMA has determined that for certain types of facilities there are normally no alternatives to restoration in the floodplain or wetland. These are facilities that meet all of the following criteria: 1) FEMA's estimate of the cost of repairs is less than 50% of the cost to replace the entire facility and is less than $100,000; 2) the facility is not located in a floodway; 3) the facility has not sustained major structural damage in a previous Presidentially declared flooding disaster or emergency; and 4) the facility is not critical (e.g., the facility is not a hospital, generating plant, emergency operations center, or a facility that contains dangerous materials). FEMA intends to provide assistance for the restoration of these facilities to their pre-disaster condition, except that certain measures to mitigate the effect of future flooding or other hazards may be included in the work. For example, a bridge or culvert restoration may include a larger waterway opening to decrease the risk of future washouts.
For routine activities, this will be the only public notice provided. Other activities and those involving facilities that do not meet the four criteria are required to undergo more detailed review, including study of alternate locations. Subsequent public notices regarding such projects will be published if necessary, as more specific information becomes available.

In many cases, an applicant may have started facility restoration before federal involvement. Even if the facility must undergo detailed review and analysis of alternate locations, FEMA will fund eligible restoration at the original location if the facility is functionally dependent on its floodplain location (e.g., bridges and flood control facilities), or the project facilitates an open space use, or the facility is an integral part of a larger network that is impractical or uneconomical to relocate, such as a road. In such cases, FEMA must also examine the possible effects of not restoring the facility, minimizing floodplain or wetland impacts, and determining both that an overriding public need for the facility clearly outweighs the Executive Order requirements to avoid the floodplain or wetland, and that the site is the only practicable alternative. The State of Georgia and local officials will confirm to FEMA that proposed actions comply with all applicable state and local floodplain management and wetland protection requirements.
FEMA intends to provide IA program funding for disaster-related emergency housing. These actions may adversely affect a floodplain or wetland, or may result in continuing vulnerability to floods. These actions may include repair, restoration, or construction of housing or private bridges, purchase and placement of travel trailers or manufactured housing units, or repair of structures as minimum protective measures. This will be the only public notice concerning these actions.
FEMA also intends to provide HMGP funding to the State of Georgia to mitigate future disaster damages. These projects may include construction of new facilities, modification of existing, undamaged facilities, relocation of facilities out of floodplains, demolition of structures, or other types of projects to mitigate future disaster damages. In the course of developing project proposals, subsequent public notices will be published if necessary as more specific information becomes available.
The National Historic Preservation Act requires federal agencies to take into account the effect of their undertakings on historic properties. Those actions or activities affecting buildings, structures, districts or objects 50 years or older or that affect archeological sites or undisturbed ground will require further review to determine if the property is eligible for listing in the National Register of Historic Places (Register). If the property is determined to be eligible for the Register and FEMA's undertaking will adversely affect it, FEMA will provide additional public notices. For historic properties not adversely affected by FEMA's undertaking, this will be the only public notice.
The Rehabilitation Act of 1973 protects the civil rights of persons with disabilities. It prohibits discrimination on the basis of disability by the federal government, federal contractors, and by recipients of federal financial assistance. Any recipient or sub-recipient of federal funds is required to make their programs accessible to individuals with disabilities. Its protections apply to all programs and businesses that receive any federal funds. This applies to all elements of physical/architectural, programmatic and communication accessibility in all services and activities conducted by or funded by FEMA. FEMA intends to comply with the Rehabilitation Act in all federally conducted and assisted programs in alignment with the principals of whole community inclusion and universal accessibility.
As noted, this may be the only public notice regarding the above-described actions under the PA, IA, and HMGP programs. Interested persons may obtain information about these actions or a specific project by writing to the U.S. Department of Homeland Security, Federal Emergency Management Agency – Region IV - EHP, 3003 Chamblee Tucker Rd – Office #255, Atlanta, GA 30341-4112 or by calling 678-218- 2120. Comments should be sent in writing at the above address within 15 days of the date of this notice.
Filing a Flood Insurance Claim
If you have experienced a flood, you can file your flood insurance claim by following these three steps.
STEP ONE: NOTIFY YOUR INSURER TO START THE CLAIMS PROCESS
After experiencing a flood, contact your agent or insurance company to file a claim. Make sure you have the following information handy:
The name of your insurance company
Your policy number
A telephone and/or email address where you can be reached at all times
An adjuster should contact you within a few days of filing your claim. If you do not hear from an adjuster, please contact your insurance agent or company again. Find your company's toll-free phone number.
STEP TWO: DOCUMENT THE DAMAGE
Separate damaged from undamaged property. Your adjuster will need evidence of the damage to your home and possessions to prepare your repair estimate.
Take photographs of all of the damaged property, including discarded objects, structural damage, and standing floodwater levels.
Make a list of damaged or lost items and include their date of purchase, value, and receipts, if possible.
Officials may require disposal of damaged items so, if possible, place flooded items outside of the home.
STEP THREE: COMPLETE A PROOF OF LOSS TO SUPPORT YOUR CLAIM
Your adjuster will assist you in preparing a Proof of Loss (which is your sworn statement of the amount you are claiming including necessary supporting documentation) for your official claim for damages. You'll need to file your Proof of Loss with your insurance company within 60 days of the flood. You'll receive your claim payment after you and the insurer agree on the amount of damages and the insurer has your complete, accurate, and signed Proof of Loss.
Find out more about filing your claim.
News and Information
No articles have been tagged with this disaster.
Designated Counties (Individual Assistance)
Bryan (County)
Bulloch (County)
Chatham (County)
Effingham (County)
Evans (County)
Glynn (County)
Liberty (County)
Long (County)
McIntosh (County)
Wayne (County)
Preliminary Damage Assessment Documents
Last updated September 28, 2020