WASHINGTON -- FEMA Administrator Pete Gaynor joined FOX News and The Weather Channel this afternoon to provide the public updates on Sally, which made landfall this morning as a Category 2 hurricane, as well as wildfire response in the West.
Gaynor's discussion with FOX's Bill Hemmer focused on the whole-of-government response to Sally and how to stay safe during this time.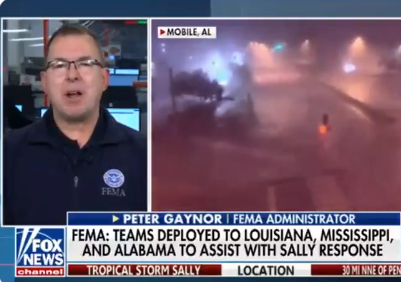 "My goal today is to make sure that safety is our No. 1 priority," Gaynor said. "Don't put a generator indoors; carbon monoxide will kill you. Stay off your roof ...and heed the advice of your local emergency managers. Stay safe until you get the all clear."
"Water is going to be the issue, so whether you live on the coast, or more importantly inland, as Sally makes its way through Alabama, Georgia, South Carolina…[there could] be flash flooding, inland flooding," Gaynor continued.  "Stay out of the water. Don't drive in water. Turn around, don't drown."
Gaynor said he is confident that FEMA can get recovery resources to where they are most needed on the coast.
"We have assets all through the South … Plenty of resources in the region -- from Florida to Louisiana -- it is not an issue today with Sally."
The administrator also emphasized FEMA's continuing support of wildfire response in the West.
"I talked to the Oregon Federal Delegation and emergency managers this morning," said Gaynor. "Conditions are better … It's been a long season for California, Oregon and Washington. We continue to support them and all they do. The president was just out [in California] with Governor [Gavin] Newsom making sure they had all the resources at their disposal.The president just signed a major disaster declaration for Oregon yesterday to make sure they have everything they need to respond to and recover from those fires."
On The Weather Channel, Gaynor again emphasized the need to stay alert as Sally continues its path in the Southeast, while the agency continues supporting COVID-19 response.
"It has been a historic year in many ways, an unprecedented season in many ways. So whether it's the hurricane season, wildfire season, response to COVID-19 -- it's unprecedented. But we've had an unprecedented response. And it's not just FEMA that responds it's really the team, and the team includes my partners at DOD, National Guard, our Voluntary Organizations like the Red Cross, Team Rubicon, all working together to come and deliver resources to those impacted by disasters. That's how it works for Sally, that's how it's worked in the past and that's how it's going to work in the future with whatever comes next," Gaynor concluded.
FEMA is encouraging people in at-risk areas for Sally impacts to download the FEMA app to receive emergency and access preparedness tools to keep families safe. We will continue to work with our state, tribal and local partners as they plan for potential impacts and sheltering operations in this COVID-19 environment.
For additional preparedness information on all types of disasters, visit Ready.gov.