Release Date:
April 22, 2020
WASHINGTON — The whole-of-America response to fighting the COVID-19 pandemic continued today, as FEMA reps visited a Battelle decontamination system site in Wisconsin, an alternate care facility was set up in Philadelphia and reusable face shields arrived in New Jersey.
FEMA continues to expedite movement of commercially pre-sourced and commercially procured critical supplies from the global market to medical distributors in various locations across the U.S. through Project Airbridge.
As of April 21, Project Airbridge has completed 70 flights with an additional 46 scheduled.  Two flights landed in Chicago yesterday, with four flights scheduled to land today:  two in Chicago, one at JFK (NY) and one at LAX.
 
Through Project Airbridge, the following supplies have been delivered from overseas manufacturers to the U.S. and into private sector supply chains from March 29 to April 19:
More than 760,000 N95 masks.
More than 608 million gloves.
More than 52 million surgical masks.
More than 7.4 million surgical gowns.
Nearly 2.1 million thermometers.
More than 562,000 face shields.
To date, FEMA has obligated $5.7 billion in support of COVID-19 efforts. In the last 24 hours, that figure includes:
$30 million to California.
$2 million to Colorado.
$6.5 million to Louisiana.
Fla. House Rep. Jason Fischer visits Jacksonville Testing Site 
JACKSONVILLE, Fla. (April 21, 2020) — Jason Fischer, a member of the Florida House of Representatives, visits Jacksonville's COVID-19 community-based testing site at TIAA Bank Field.  More than 2,300 Florida National Guard soldiers are responding to the COVID-19 pandemic by supporting multiple testing site locations throughout the state.
Florida National Guard photo by Sgt. Michael Baltz
 
FEMA Reps Visit Battelle Site in Wisconsin
WAUKEGAN, Ill. (April 20, 2020) — FEMA Region 5 leadership visits the Battelle Critical Care Decontamination System site at Cardinal Health in Waukegan, Illinois. This is one of many decontamination sites around the nation that Battelle has set up in response to the COVID-19 outbreak.
FEMA photo by Dominick Del Vecchio
 
FEMA, USACE Setup Alternate Care Facility in Philadelphia
PHILADELPHIA (April 20, 2020) — FEMA's Region 3 reps, along with the Army Corps of Engineers, Philadelphia Office of Emergency Management and others, transforms Philadelphia's Temple University Liacouras Center into an alternate care facility to support the city and state for hospital surge as a result of COVID-19.  The facility has a 221-bed capacity.  Additional areas are being set up and equipped with pressure tents to care for recovering patients.
Philadelphia Office of Emergency Management photo by Jeffrey D. Kolakowski
 
Boeing Delivers Reusable Face Shields to FEMA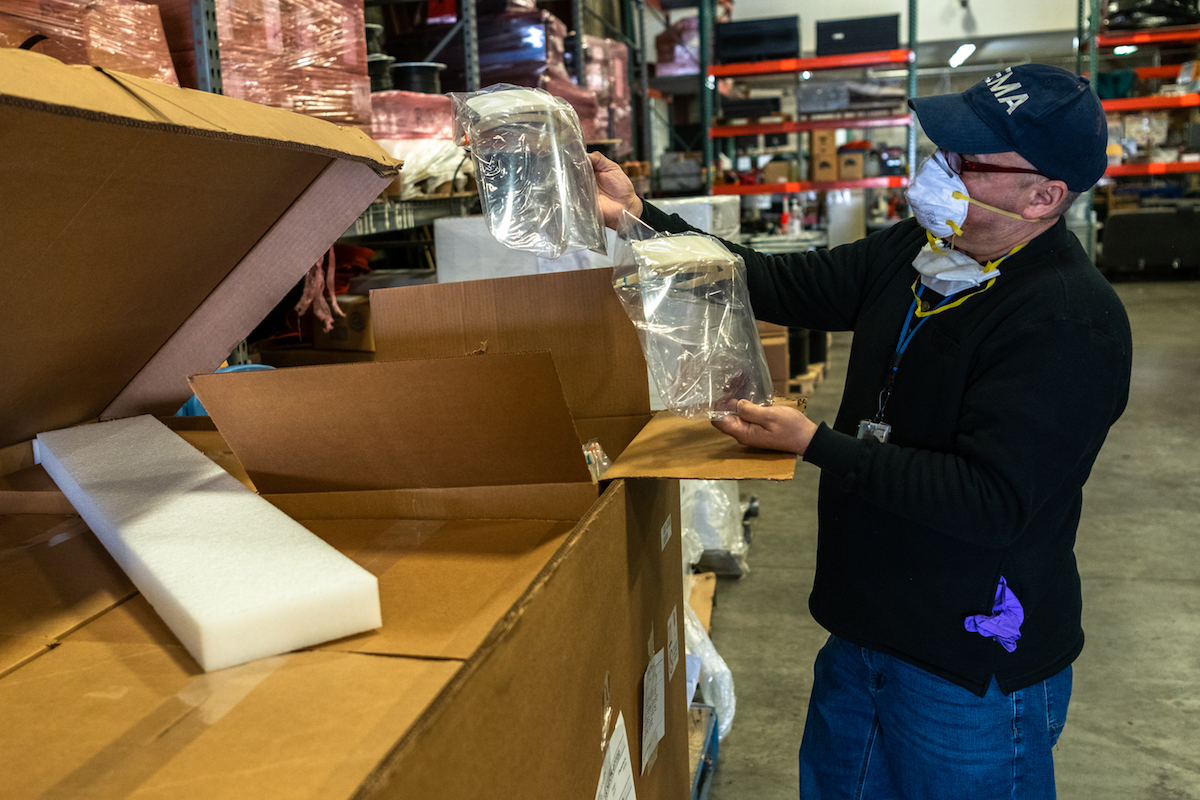 COLTS NECK, N.J. (April 20, 2020) — A FEMA logistics specialist receives a shipment of reusable, 3D-printed face shields from Boeing to support healthcare professionals working to stop the spread of COVID-19.
FEMA photo by K.C. Wilsey
 
2nd Wave of Ambulance Units, Crews Arrive in New Jersey
EAST RUTHERFORD, N.J. (April 20, 2020) — Another wave of ambulances arrive to support local hospitals and New Jersey EMS personnel and relieve some units from the first wave.  Crews were thanked for their COVID-19 response efforts.  A moment of silence was held for New Jersey first responders who have lost their lives due to the pandemic. There are currently more than 600 responders assigned in New Jersey.
FEMA photo by K.C. Wilsey
 
###