FY22 Funding
Get Started
Program Support Materials
Managing Your Grant
Additional Resources
Flood Mitigation Assistance is a competitive grant program that provides funding to states, local communities, federally recognized tribes and territories. Funds can be used for projects that reduce or eliminate the risk of repetitive flood damage to buildings insured by the National Flood Insurance Program.
FEMA chooses recipients based on the applicant's ranking of the project and the eligibility and cost-effectiveness of the project.
FEMA requires state, local, tribal and territorial governments to develop and adopt hazard mitigation plans as a condition for receiving certain types of non-emergency disaster assistance, including funding for hazard mitigation assistance projects. For more information, refer to the Hazard Mitigation Assistance Guidance.
Graphic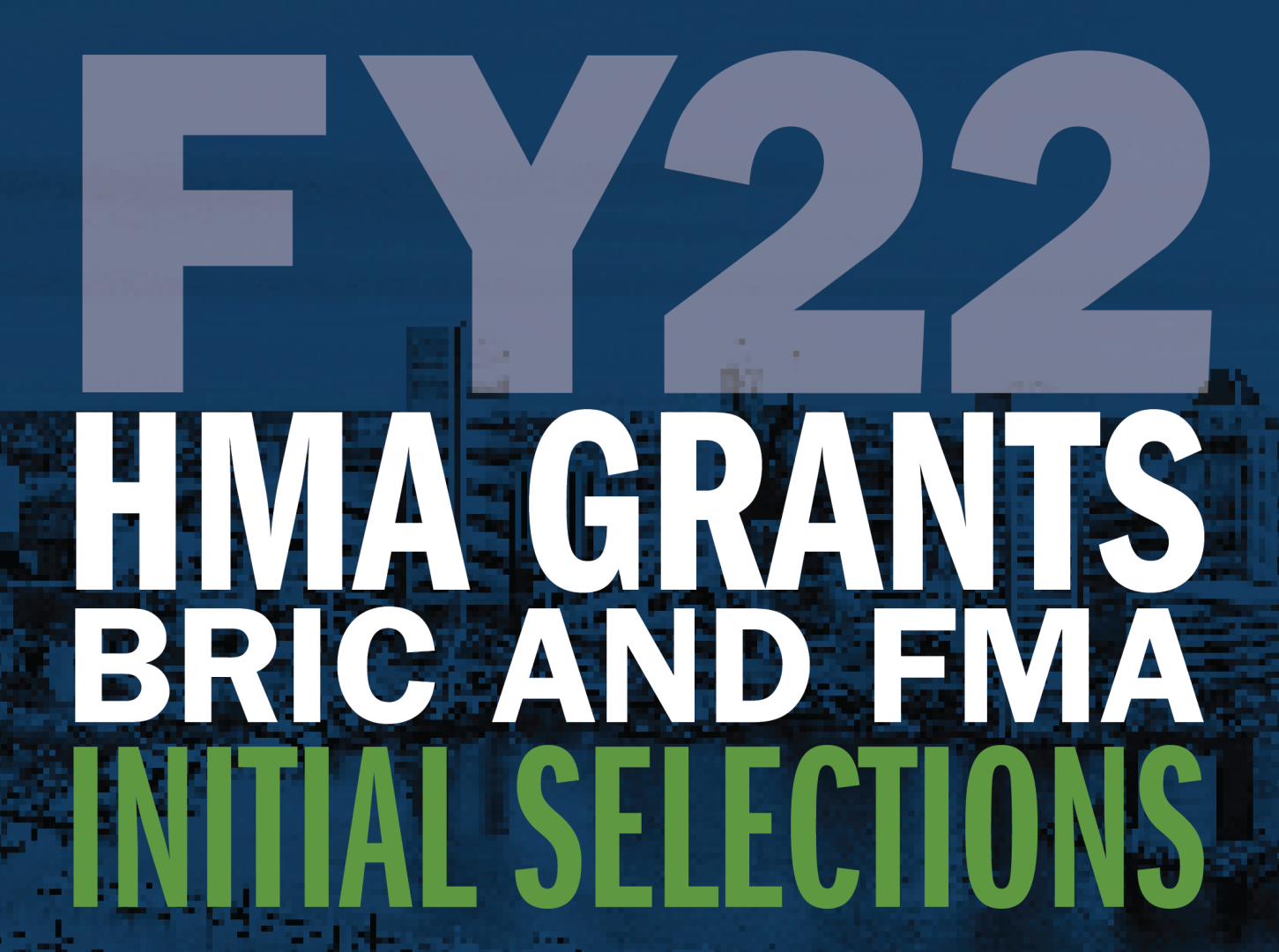 Hazard Mitigation Assistance (HMA) Fiscal Year 2022 BRIC and FMA Initial Selections
FEMA announced the initial project selections for further review for FY22 Building Resilient Infrastructure and Communities (BRIC) and Flood Mitigation Assistance grant funding.
FEMA selected 58 subapplications totaling more than $23.8 million across 18 states and the District of Columbia.
Read More
Fiscal Year 2022 Funding Summaries
In April, FEMA published an overall summary about the subapplications submitted for the fiscal year 2022 two annual grant programs.
For fiscal year 2022, FEMA made a total of $800 million available for the Flood Mitigation Assistance program. At the close of the application period in late-January 2023, FEMA received 270 subapplications totaling nearly $980 million from 29 states, territories, and the District of Columbia.
Learn more about these submissions for the FMA and Building Resilient Infrastructure and Communities (BRIC) grant programs. 
Previously selected subapplications for the Flood Mitigation Assistance Program are available here.
Get Started
Learn about: available funding; who can apply; what types of activities can be funded; and what to expect when you apply.
Understand your application status, the appeal process and how to manage your award.
Get important application dates. Find resources to navigate FEMA GO. Learn what must be included in applications.
Learn more about FEMA's disaster initiative that distributes funding in alignment with the survivor experience.
Program Support Materials
See our Resource List for Flood Mitigation Assistance. Use these resources to understand project requirements and types, how area maps are created, and more.
The Mitigation Action Portfolio provides details and examples of the types of activities that may be funded. Download this template to submit your own project to the portfolio.
Nature-Based Solutions: A Guide for Local Communities (2021) lays out the business case for nature-based solutions. It also offers advice for planning and carrying them out.
Managing Your Grant
FEMA Grants Outcome (FEMA GO)
For grants issued in FY 2020 and later, please use the FEMA GO system, which is now the management system for FEMA pre-disaster mitigation grants.
FMA grants are managed using the FEMA GO Portal. Visit FEMA GO Templates and Resources to learn more.
Additional Resources
Graphic
Find resources to support project scoping, community flood mitigation projects, geospatial file requirements and more.
See videos, slide decks and other materials from the 2022 Hazard Mitigation Assistance Summer Engagement Series.  This provides technical information, best practices, tools and resources for the HMA grant programs.
Graphic
On Aug. 1, 2022, FEMA published the summary of applications and subapplications received for the 2021 Hazard Mitigation Assistance annual non-disaster grant cycle. For this FMA grant cycle, $160 million was available. FEMA received requests for $534 million in applications.
Read this fact sheet to learn about other programs available under Hazard Mitigation Assistance.
News and Announcements
Flood Mitigation Assistance Notice of Funding Opportunity
FEMA released the Flood Mitigation Assistance Notice of Funding Opportunity (NOFO) on Aug. 9, 2021. The selections for further review for the $160 million in available funding were announced in August 2022.
Flood Mitigation Assistance Initiative Swift Current
FEMA has published a funding notice called Swift Current to explore how to make flood mitigation assistance available within the disaster recovery timeframe for repetitively flooded and substantially damaged buildings insured under the National Flood Insurance Program. Initially FEMA is offering this funding opportunity to Louisiana, Mississippi, New Jersey, and Pennsylvania, states affected by Hurricane Ida.
Swift Current is the first FEMA initiative to be funded through the Infrastructure Investment and Jobs Act. 
Learn More about Swift Current