Texas Severe Storms, Tornadoes, And Flooding (DR-4266-TX)
Incident Period: March 7, 2016 - March 29, 2016
Declaration Date: March 19, 2016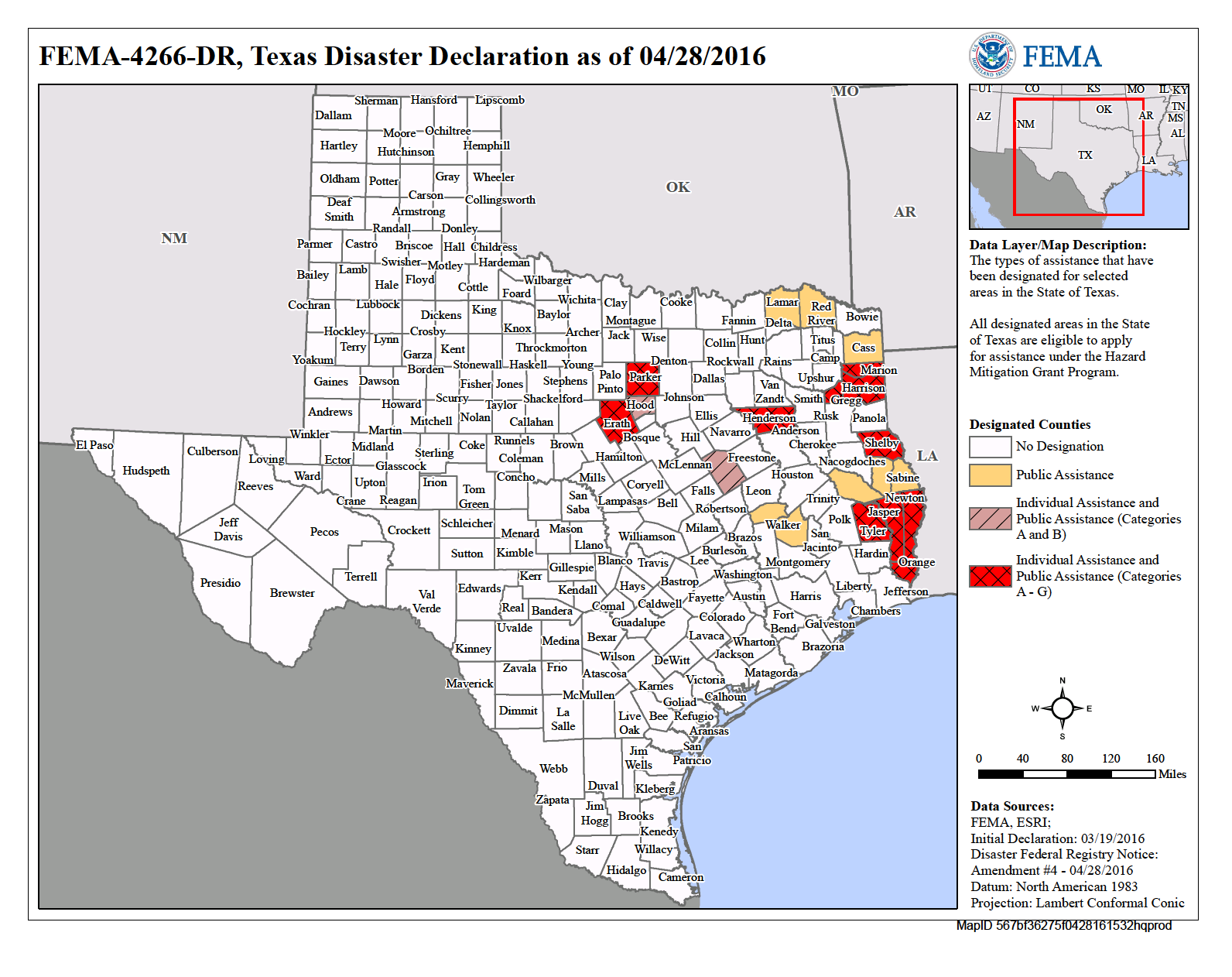 Apply for assistance by visiting disasterassistance.gov or by calling 800-621-3362. You can visit a disaster recovery center to discuss with a representative.
Myths Vs. Facts
Disaster Recovery Center Locations And DRC Locator
A Disaster Recovery Center or DRC is an accessible facility or mobile office where survivors may go for information about FEMA and other disaster assistance programs, or to ask questions about your application. The Disaster Recovery Center (DRC) Locator allows individuals to search for DRCs nearest to their location.
All Centers are closed on Sunday except if noted below:
Hours of Operation:
Deadline to Seek Federal Aid for Texas March Floods is May 18
Open DRCs
Harrison County – close 5/18 COB
T J Taylor Community Center
15642 FM 134
Karnack, TX 75661
Newton County – close 5/18 COB and transition to a Disaster Loan Center (DLOC) on May 19.
Deweyville Senior Center
43432 State Hwy 87 South
Orange, TX 77632
Newton County DRC at the Deweyville Senior Center will close on May 18 COB and transition to a Disaster Loan Center (DLOC) on May 19.
Hours of Operation at all locations: Mondays through Fridays- 9 a.m. to 6 p.m.
Saturdays, from 9 a.m. to 2 p.m. and closed Sundays.
The DRC Locator also provides additional information about each DRC, such as hours of operation, services offered, and driving directions to the DRC.
After Receiving A Letter
I applied with FEMA and was sent a letter saying I'm ineligible or that my application was incomplete. Does this mean I'm not going to get any help?
Don't be alarmed or discouraged. Sometimes just a quick fix can change "ineligible" to "eligible". Maybe FEMA does not have all the information needed to make a decision regarding your application for disaster assistance. It's important to call 800-621-3362 or visit a recovery center to discuss this with us face-to-face. Find your closest Texas recovery center online at Disaster Recovery Center.
What are some reasons why I could have received this letter?
Maybe you didn't return information about your insurance policy, provide information to prove occupancy or ownership of the damaged property, fill out all necessary paperwork, or complete and return the U.S. Small Business Administration disaster loan application. Remember: You are not obligated to accept an SBA loan if one is approved, but if you don't accept the loan, you may not be eligible for additional federal disaster assistance.
I have insurance. How do I get that information to FEMA so you can proceed with my application?
Contact your insurance company and ask for a settlement letter detailing exactly what is covered under their claim. Your insurance settlement information should be mailed to:
FEMA – Individuals and Households Program
National Processing Service Center
P.O. Box 10055
Hyattsville, MD 20782-7055
How long do I have to submit insurance information?
You have up to 12 months from the date you registered with FEMA to submit insurance information for review. FEMA cannot provide money to individuals or households for losses already covered by insurance.
Can I appeal my determination letter?
Every applicant has the right to appeal.
How long do I have to appeal?
Applicants have 60 days from the date on the determination letter to appeal a decision. Guidelines for an appeal can be found in the Applicant's Handbook sent to everyone who registered with FEMA.
How do I appeal?
Your letter tells you how to appeal the decision and what additional information you need to provide to FEMA. You can visit our page "Appeal FEMA's Individual Assistance Decision" about how to appeal. You can also call 800-621-3362 or visit your nearest Texas recovery center to speak with somebody who will assist you through the appeal process. Locate disaster recovery centers online at fema.gov/disaster-recovery-centers.
Flood Recovery Dos & Don'ts
Do:
Do file a claim with your insurance company.
Do register for FEMA disaster assistance. Survivors can register online at disasterassistance.gov or by calling toll-free 800-621-3362 or TTY 800-462-7585. Those who use 711 or VRS may call 800-621-3362.
Do know that FEMA grants may help pay for a temporary place to stay, make essential repairs or replace certain damaged contents.
Do inspect for structural damage before entering their home.
Do report flood damage to local officials.
Do throw away wet contents such as bedding, carpeting and furniture. These items may be a health hazard due to mold.
Do take photographs of flood damage. The insurance company may want to see these.
Do keep recovery-related receipts. FEMA or the insurance company may want to see these.
Do return a completed application for a low-interest disaster loan if a FEMA registrant has been referred to the U.S. Small Business Administration. Returning the application is necessary for FEMA to consider them for certain grants.
Do remember that FEMA grants do not need to be repaid, are not taxed and do not affect other government benefits.
Don't:
Don't submit more than one registration per household.
Don't wait for visits from FEMA or insurance adjusters before cleaning up flood damage and starting repairs.
Don't wait for an insurance settlement to register.
Don't worry that federal disaster assistance is taking money away from someone else. FEMA provides assistance to all eligible applicants.
Don't assume only homeowners can apply for help. Renters may qualify for assistance too.
Financial Assistance
| Individual Assistance | Amount |
| --- | --- |
| Total Housing Assistance (HA) - Dollars Approved | $18,326,321.56 |
| Total Other Needs Assistance (ONA) - Dollars Approved | $2,818,139.96 |
| Total Individual & Households Program Dollars Approved | $21,144,461.52 |
| Individual Assistance Applications Approved | 1860 |
| Public Assistance | Amount |
| --- | --- |
| Emergency Work (Categories A-B) - Dollars Obligated | $9,059,351.49 |
| Permanent Work (Categories C-G) - Dollars Obligated | $22,243,856.32 |
| Total Public Assistance Grants Dollars Obligated | $31,915,708.81 |
News and Information
No articles have been tagged with this disaster.
Designated Counties (Individual Assistance)
Erath (County)
Gregg (County)
Harrison (County)
Henderson (County)
Hood (County)
Jasper (County)
Limestone (County)
Marion (County)
Newton (County)
Orange (County)
Parker (County)
Shelby (County)
Tyler (County)
Preliminary Damage Assessment Documents
Last updated September 28, 2020