On Jan. 12, severe storms, straight-line winds and tornadoes struck Alabama. The storms damaged homes and public infrastructure in 11 counties. However, the Black Belt was the most affected area.
The Black Belt is a term that refers to the region's rich, black soil and natural resources. It is an area with a legacy of African American public activism during the Civil Rights movement. The region includes some of the most disadvantaged counties in the United States, with high unemployment, limited access to medical care and substandard housing.
In underserved communities such as these, local volunteers are uniquely positioned to respond immediately, understand the communities' needs and leverage area resources. Grassroots organizations share an identity with the residents, are committed to their wellbeing and foster a sense of ownership.
Examples of the services that voluntary organizations provide, include:
Coordinating first response services such as feeding and sheltering.
Removing debris.
Assisting with the mucking and gutting process for home clean-up.
Providing necessities, such as hygiene products and clothing, as well as childcare, emotional and spiritual care, and other services.
Kim Proctor Lawkis is a leader of volunteer efforts in Alabama. She currently serves as the chief operating officer of Feeding Alabama, as well as the president of Alabama Voluntary Organizations Active in Disaster (VOAD).
"Community organizations (non-profits and faith-based congregations) are truly at the front lines of disaster preparedness and response," Lawkis said. "Every storm response is different based on impact, much like every Alabama community is different. The ways in which state and federal agencies rely on local expertise is countless. Community partners serve as hosts for Volunteer Reception Centers, Disaster Recovery Centers and distribution warehouses. They also help state and federal agencies identify needs, such as translators, aid in communication and services for community members with disabilities."
The Black Belt Community Foundation is one organization based in Alabama that connects locals who are interested in volunteering with nonprofits that are making a difference in the area. The foundation was created in 2004 with the idea that those living and working in the Black Belt best know the area's challenges and opportunities.
Since the storms in Alabama, the foundation has provided funds for temporary housing and been involved in short-term and long-term recovery efforts.
Volunteers package supplies for survivors.
Organizations like the Selma Center for Nonviolence, Truth & Reconciliation connect volunteers to nonprofits such as About All Healers Mental Health Alliance. This organization is a national network comprised of psychiatrists, health professionals, community advocates, and faith leaders from across the nation came together immediately after Hurricane Katrina in 2005.
During response efforts in the Black Belt, the organization helped train volunteers to assist with FEMA assistance applications. Through this initiative, volunteers learned to understand the FEMA Individual Assistance Application process, how to apply for assistance, and how to navigate the FEMA appeals process.
These volunteers in turn donated their time on Saturdays, to help Selma residents know their rights and opportunities regarding FEMA, insurance, housing assistance, etc.
Houses of worship can also be essential partners in volunteer efforts after a disaster. Rev. Diane Everett of the Church Street United Methodist Church's (CSUMC) in Selma, said she witnessed the power of community firsthand.
"Thursday, January 12th was life-changing for everyone in Selma," Everett said. "On Friday morning, church member Randy Lovelady met me at our church with hot coffee and warm biscuits for anyone in need. Soon after our colleagues from the United Methodist Committee on Relief showed up with the makings for sandwiches and everyone got busy. We were feeding 500 to 800 people every day for lunch, including first responders, volunteers, as well as meals delivered to homes.
Everett said the number of residents who showed up to volunteer to do what they could was inspiring. "I have watched people of all races and economic levels working and laughing together," she said.
In addition, Everett's church welcomed Selma residents in need of a hot shower and spiritual care.
Team Rubicon helps clean up after tornadoes in Alabama.
Jeff Byard, vice-president of operations for Team Rubicon, said he believes strongly in the collaboration between national organizations and community-based groups. The Alabama native has served with the Alabama Emergency Management Agency for 14 years.
"Partnerships with local community-based organizations are the foundation of service delivery and at Team Rubicon we engage communities during every phase of the disaster cycle," Byard said. "Our work in local communities varies because the needs of each community vary. We engage the state and local emergency management offices and leadership by collaborating and communicating to serve the marginalized and underserved communities."
Team Rubicon, a National Voluntary Organization Active in Disaster member, has been heavily engaged in response and recovery efforts in Alabama since February, including demolition and restoration.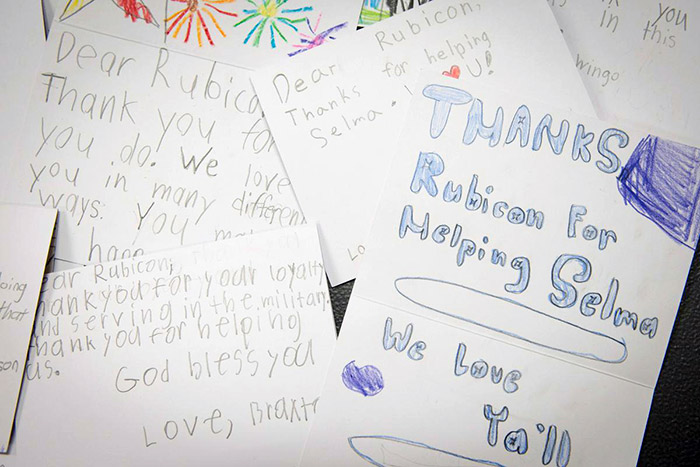 Survivors send thank you notes to Team Rubicon members.
In the federal government, the people that cultivate and sustain partnerships with these voluntary organizations at the local and national level are FEMA's Voluntary Agency Liaisons (VALs). The VAL mission includes working with community partners, promoting a unity of effort and adapting solutions to meet shortfalls and unmet needs. The VAL's "people first" approach serves an integral role to avoid duplication of benefits and services and maximize the impact of combined efforts.
Christopher Baker, FEMA's Region 4 Voluntary Agency Liaison who deployed to support response and recovery in Alabama, shared his experience.
"While we traditionally see a lot of 'neighbor helping neighbor' after a disaster, it seems to be exemplified in our more rural areas of the South," Baker said. "'Neighbor helping neighbor' and 'community helping community' can be summed up best by a local volunteer that supported a shelter in Selma who said, 'it is such an outpouring of love throughout the community like [she has] never seen,'"
Baker was a part of the FEMA team that participated in a volunteer workday organized by the Alabama Governor's Office of Volunteerism earlier this month. The workday brought together more than 100 local volunteers who answered the call, including FEMA's Deputy Administrator Erik Hooks.
For more information about FEMA's partnerships, visit the Voluntary Organization Information System for Engagement (VOISE) Dashboard. You can also reach out to our VALs by emailing FEMA-VAL@fema.DHS.gov.