FEMA tracks current building code adoption status for state, local, tribal and territorial governments (SLTTs), reaching approximately 22,000 jurisdictions across the nation. This effort, often referred to as BCAT (Building Code Adoption Tracking), evaluates several aspects of a community's natural hazard risks and building code adoption, including:
State or territory requirements for mandatory building code adoption
Building code adoption status for jurisdictions, including construction requirements for residential and commercial
Identification of known weakenings of flood, wind, and seismic provisions of adopted building codes
BCAT Products
Building code adoption tracking data is used to produce:
Annual Building Code Adoption Tracking (BCAT) Fact Sheets
Graphic
Provides an overview of the building code adoption status within each state and territory, organized by FEMA region.
Annual Mutual Aid for Building Department (MABD) Fact Sheets
Graphic
Provides an overview of mutual aid laws and regulations in each state and territory for response teams to assist with building code safety and enforcement after disasters.
View the BCAT Glossary for definitions of commonly used terms and acronyms.
Building Code Adoption Portal
Graphic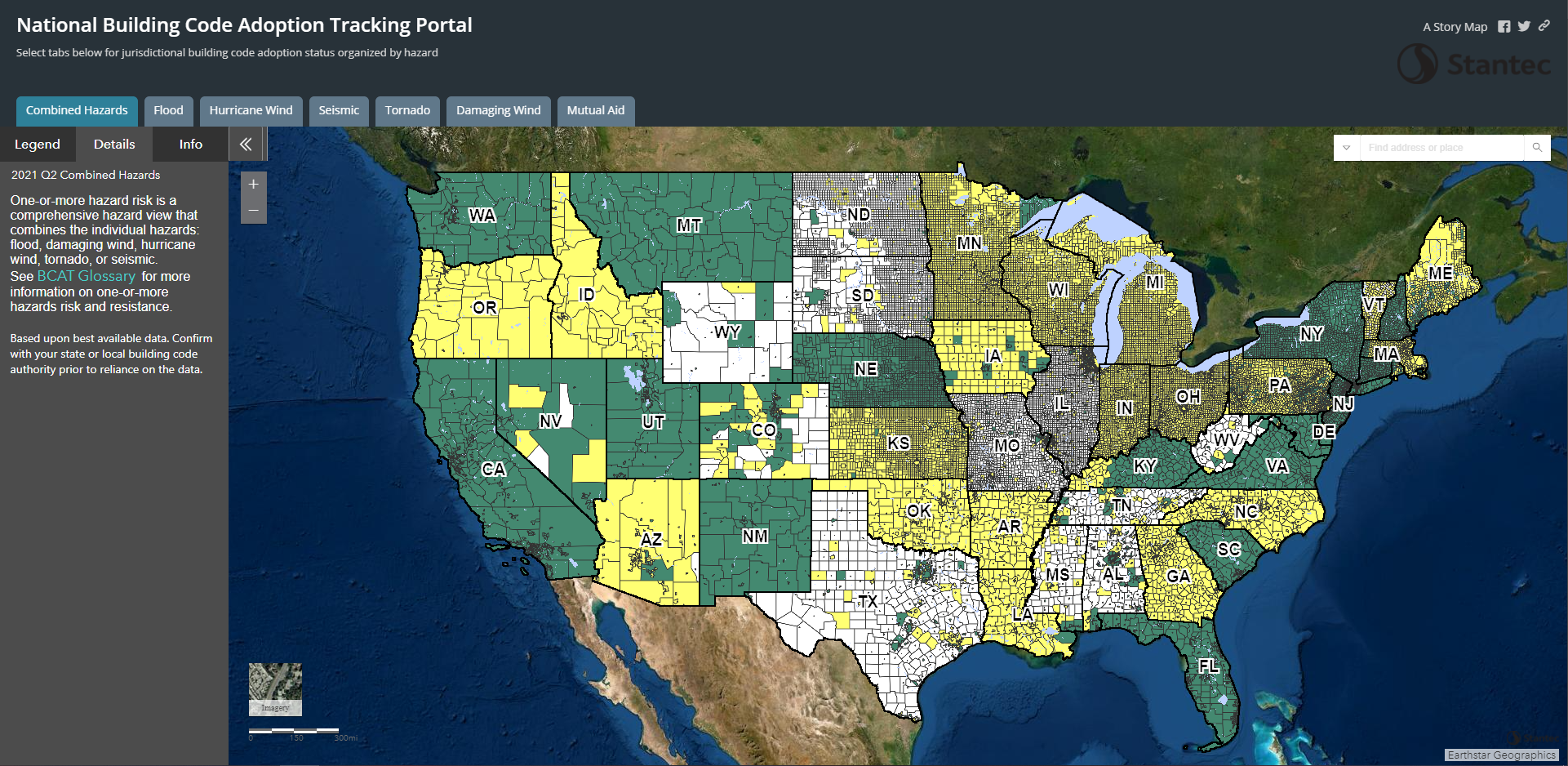 The Building Code Adoption Portal is an interactive WebGIS map that tracks five hazards (flood, seismic, tornado, hurricane wind, damaging wind) and displays:
Code adoption information for Census Incorporated Places
Additional metadata such as the latest decennial U.S. Census population and National Flood Insurance Program Community Identification (CID) number
Mutual aid layer displaying mutual aid laws
Regulations information from the annual Mutual Aid for Building Departments fact sheets
High risk areas and code adoption and weakening information for each individual hazard, or view a comprehensive combined hazards layer
Resistant Code Adoption Statistics
The table below displays the percent of tracked jurisdictions that are resistant to the hazards identified, along with the annual and quarterly change.
Statistics based on FY2023 Q2 data