Thirty years ago, President Bill Clinton signed the National and Community Service Trust Act to offer a new avenue of public service for Americans and created a new government agency, the Corporation for National and Community Service (CNCS).  After the creation of CNCS, over 1.25 million Americans have pledged to "get things done" through its flagship program, AmeriCorps.
Today, CNCS is simply known as AmeriCorps and is comprised of the AmeriCorps National Civilian Community Corps (NCCC), AmeriCorps Seniors, AmeriCorps State/National and AmeriCorps Volunteers in Service to America (VISTAs).
In 2012, AmeriCorps and FEMA signed a memorandum of understanding to create a new program, FEMA Corps. This program was specifically designed to give interested young adults the opportunity to work with FEMA to support communities before, during and after disasters and to take a step towards federal employment as emergency managers.
In the last 11 years, over 800 participants have made the transition from corps members to FEMA staff, bringing with them a commitment to make people safer, smarter and healthier.
To celebrate AmeriCorps Week, March 13-17, FEMA asked former AmeriCorps members what that experience meant to them and how it prepared them for their role at FEMA.
Joshua Herron – FEMA Region 4 Situation Unit Lead
How was your AmeriCorps experience?
My experience in AmeriCorps was not one that was planned, but I can honestly say it was an experience that changed my life.
Four days after graduating from undergrad I was in California for team leader training at the AmeriCorps Pacific Region campus. During my term, my team and I were trained with FEMA in the agency's Disaster Survivor Assistance (DSA) and Floodplain Management programs, only the second AmeriCorps team to do so.
During my year, my team deployed in response to Hurricane Florence in North and South Carolina conducting DSA, Floodplain Management and Crisis Clean-up management. We also volunteered with a local nonprofit to muck and gut homes impacted by Hurricane Florence.
Did AmeriCorps prepare you to work at FEMA?
Absolutely! Following AmeriCorps, I knew I wanted to work for FEMA and gain as much emergency management experience as possible. Knowing every disaster must have information technology (IT) and logistical needs, I applied to an IT position so I could deploy frequently to allow me to network on various disasters and learn a new skill in the process.
After two years in IT, I took a position in FEMA Region 10 where I worked on COVID-19 response and a winter storm in Alaska. Working in Alaska, I was able to work with remote communities and tribes that have a small window to recover from disaster events. These tribes and rural communities are at the mercy of limited resources due to accessibility since everything must be shipped by air to many of the smaller areas.
In August 2022, I took my current position in Region 4 as the situation unit leader with the regional Incident Management Assistance Team, Team 2. Having only been on the team for a few months I have responded to flooding in Kentucky, Hurricane Ian in Florida and tornadoes in Alabama.
My experience in AmeriCorps helped in many ways but especially in leadership. The practice of managing a team across the county, dealing with team dynamics, family issues, team budget and traveling was the best. AmeriCorps helped me become a supervisor. I learned through AmeriCorps that you must listen fully to your team when there are problems and understand where they are coming from. Each person handles direction differently, which requires supervisors to be adaptive to their team.
Azure Bookman – FEMA Region 4 Resource Unit Lead
What was AmeriCorps like for you?
I served in the AmeriCorps National Civilian Community Corps – FEMA Corps Program at the Vinton, Iowa, campus. I joined as a team member fresh out of undergrad. During my service year, I was promoted to a team leader.
As a team member, I assisted in disaster field operations as a DSA specialist for Hurricane Michael. During this time, I had the opportunity to be the first point of contact and a friendly face for survivors who were severely impacted by the disaster. 
I also worked within the FEMA Individual Assistance cadre as an individual assistance specialist out of the National Process Serving Center in Denton, Texas. Once promoted to team leader, I served out of the FEMA Region 2 office under the planning cadre working with American Red Cross of Greater New York installing fire alarms in underserved communities.
My current position is a part of Region 4 Incident Management Assistance Team, Team 1 as a resource unit leader.
My AmeriCorps experience was a humbling part of my life. It allowed me to see the agency for what it truly stands for, which is helping people before, during, and after a disaster.        
Tara Bailey – FEMA HQ Emergency Management Specialist
How was your AmeriCorps experience?
I served with AmeriCorps NCCC Traditional Corps – Southwest Region as a team leader in 2020-2021. Throughout the term, my team and I had a variety of amazing opportunities, such as:
Supporting Hurricane Harvey recovery by refurbishing homes in Houston, Texas.
Living on a state park in Oklahoma to restore trails and support fuel reduction efforts in preparation for wildfire season.
Working at a Community Vaccination Center in Colorado that vaccinated roughly 50,000 people.
Supporting economic development for rural communities in Colorado through community engagement and infrastructure maintenance.
For our last project, the team led a Paint and Connect program with our sponsor where we went around the community repainting and refurbishing community members' homes. Each member of the team was a site lead at the houses, serving as a POC for the sponsor and the community members that volunteered to help. On the last day, there was one house left to complete. So, the entire team and a majority of the town came together to complete the final touches! Community members brought ice pops, sandwiches and a speaker for music! Everyone was using popsicle sticks and paint brushes as pseudo-microphones, and it was a great closeout to a rewarding year.
Did AmeriCorps prepare you to work at FEMA?
My AmeriCorps experience has helped me immensely to excel in my current role by giving me a disaster survivor-first mindset to do everything we can to complete the mission, project or task at hand. Through this, I have been able to recognize the value of empowering those around you to ultimately set them up for success.
My experience also helped me learn when and how to take initiative, as well as develop my interpersonal skills, which are crucial when building relationships across the agency to determine how best to rollout programs holistically and successfully.
No matter your role in FEMA, each decision we make is to better deliver aid and support to disaster survivors and state, local, tribal and territorial partners. The field work from my AmeriCorps experience was pivotal in shaping this mindset. I also learned quite a few packing tips that help for field deployments!
Sean Duffy – FEMA HQ Program Analyst
What was AmeriCorps like for you?
I served with an AmeriCorps State program, the AmeriCorps St. Louis Emergency Response Team from September 2018 through August 2019. Although we were based out of St. Louis, Mo., we went where we were most needed.
For me personally, this included disaster deployment responses to Paradise, Calif., to assist with the wildfire response, and Omaha, Nebraska, and Northwestern Missouri to help with flooding. Our main role in responding to these disasters varied but primarily consisted of volunteer and donations management. Although, we also performed immediate response work such as building sandbag levees to protect communities from flooding.
When not actively responding to disasters, we served our local Missouri community through conservation, which consisted of invasive species removal, trail maintenance, timber stand improvement and assisting with prescribed burns.
Did AmeriCorps prepare you to work at FEMA?
My service introduced me to the real-world application of the policies I am currently working to revise and develop. Seeing and dealing with the paperwork that must be kept to document work, being trained in wildfire response and seeing how a community-wide disaster response plays out in real time has heavily impacted my effort in shaping policies to account for work and activities that may be eligible for federal reimbursement.
Overall, the experience I gained from my AmeriCorps service has proved invaluable to my work at FEMA.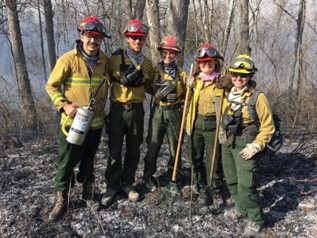 If you know someone interested in AmeriCorps, encourage them to apply by visiting AmeriCorps.gov or FEMA.gov.  Members will receive a living allowance, money for college and trade schools, loan deferment and interest forbearance, professional development, and join an extensive alumni network.
Visit AmeriCorps | AmeriCorps to learn more.