When communities come together after disasters like Hurricane Ian, we are reminded that recovery is a whole community effort.  From creating shelter space to providing comfort dogs, there are many ways response organizations come forward to aid in the recovery process.
Every day, FEMA is honored to work with these voluntary, faith-based and private sector partners to help those affected by disasters. These organizations are critical lifelines to communities, providing resources and services that improve communities every day. Working with these organizations is often the best way to understand community needs and distribute critical supplies to those who need it most.
Below are examples of how some of our National VOAD organizations have been actively supporting the Hurricane Ian response.
Buddhist Tzu Chi has mobilized mobile kitchen, medical and dental units to Florida.
Information Technology Disaster Resource Center is conducting outreach throughout all affected counties to help establish connectivity and provide loaner equipment to communities, emergency operation centers and volunteer reception centers.
Feeding Florida has every food bank in the statewide network coming together to support affected communities.
Disaster Aid USA is providing route clearance, debris removal, supplies delivered by boat and more.
Zoo Disaster Response, Rescue, and Recovery is helping Florida facilities manage situations as they arise.
American Red Cross
The American Red Cross prevents and alleviates human suffering in the face of emergencies by mobilizing the power of volunteers and the generosity of donors.​
Pictured are Red Cross volunteers from Indiana, Virginia, Illinois, South Florida and New Mexico helping survivors in Florida.
More than 1,300 Red Cross volunteers have donated their time and left their families to support communities affected by Hurricane Ian across several states. They're helping shelter people who have no place to go, distributing meals, comfort kits and cleaning supplies in the hardest-hit communities, and providing a comforting ear to those still grappling with the devastation left behind by Ian.
Robert Franks (right) has spent his entire life in Florida and has survived countless hurricanes on his own. At 84 years old, he knew to seek help from the Red Cross for Hurricane Ian because he's on oxygen and can't be without electricity.
The Salvation Army
The Salvation Army helps meet human needs across the globe.
Salvation Army of Collier County serves meals daily to those in Naples, Everglades City, Goodland and Marco Island.
More than 35,000 meals have been served to those in need due to Hurricane Ian. The Salvation Army continues to prepare resources and personnel to meet the immediate needs of survivors and first responders. The Salvation Army is also still serving survivors and first responders in Puerto Rico, as recovery continues after Hurricane Fiona.
J.N. "Ding" Darling National Wildlife Refuge and Partners
J.N. "Ding" Darling National Wildlife Refuge, on the subtropical barrier island of Sanibel, is part of the largest undeveloped mangrove ecosystem in the United States.
The J.N. "Ding" Darling National Wildlife Refuge Visitor & Education Center suffered major damage.
To help with rescue and cleanup efforts, the team from the J.N. "Ding" Darling National Wildlife Refuge, as well as Florida Panther National Wildlife Refuge, Florida Fish and Wildlife Conservation Commission, and other state and federal agencies are teaming up with the city of Sanibel.
Team Rubicon
Team Rubicon is a veteran-led humanitarian organization that serves global communities throughout disasters and crises.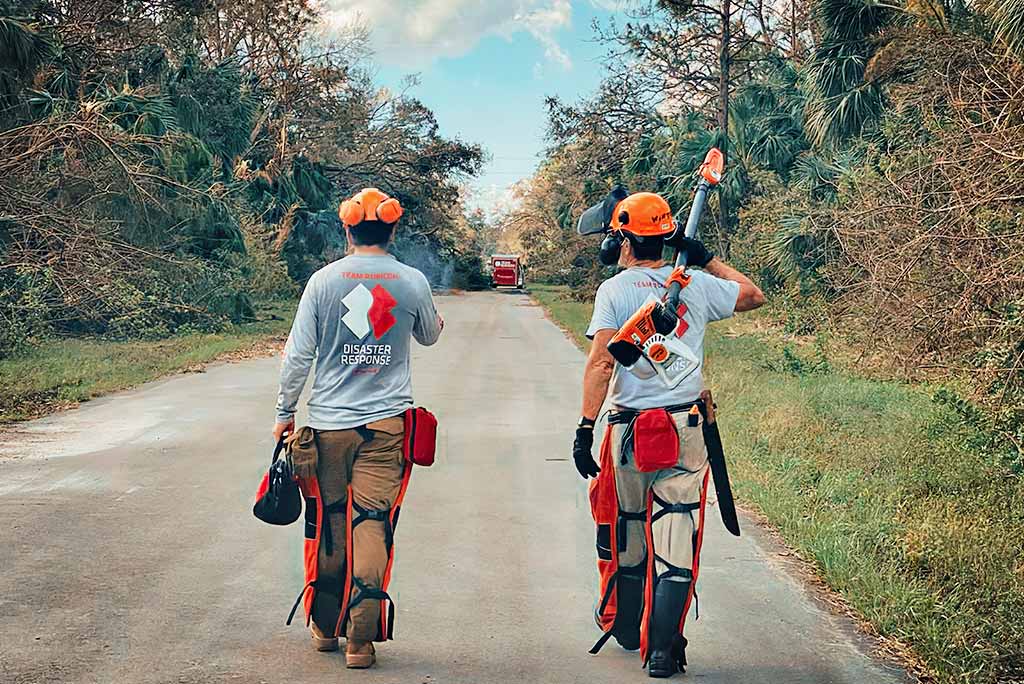 Team Rubicon deployed volunteers to assist recovery efforts in Florida impacted by Hurricane Ian. These teams help to clear roadways for first responders.
Samaritan's Purse
Samaritan's Purse is a nondenominational evangelical Christian organization providing spiritual and physical aid to hurting people around the world.
Tarping damaged roofs helps protect homes for the weeks or months it takes to repair and make homes livable again.
Samaritan's Purse U.S. Disaster Relief volunteers helped with mudding-out flooded homes, cutting downed trees, removing debris, and tarping roofs for homeowners in Florida.
Operation BBQ Relief
Operation BBQ Relief delivers BBQ in times of need, feeding first responders and communities affected by disasters.
Operation BBQ Relief is serving free hot meals on a first come, first serve basis in communities in Florida.
To find out how you can donate or volunteer for one of these organizations, read the How to Help blog post or visit Voluntary Organizations Active in a Disaster.