Challenges
Hazard Mitigation Plans are sometimes developed following a "one-size-fits-all" approach. These plans may meet federal requirements but lack unique details for a participating community's needs and priorities. Even when communities do create plans that reflect their broader vision, they may not engage the whole community. Building a relationship with the public can be a time-consuming step, but it remains important to implementing the mitigation plan.
Solution
The Knox County, city of Knoxville and town of Farragut Multi-Jurisdictional Local Hazard Mitigation Plan avoided a one-size-fits-all approach by conducting extensive public outreach and engagement efforts. These Tennessee communities used the planning process itself as an educational tool to help community members learn more about their risks and mitigation efforts.
The plan has three primary goals, one of which is, "Increase citizen awareness and preparedness by providing information describing all types of hazards, methods for preventing damage and how to respond." They met this goal throughout the multi-year planning process.
The planning committee and their consultant, went above and beyond the standard requirements to develop an outreach strategy. They partnered with residents and local organizations, such as the National Association for the Advancement of Colored People (NAACP), for the planning process.
To reach as wide an audience as possible, the planning process focused on providing three possible levels of outreach: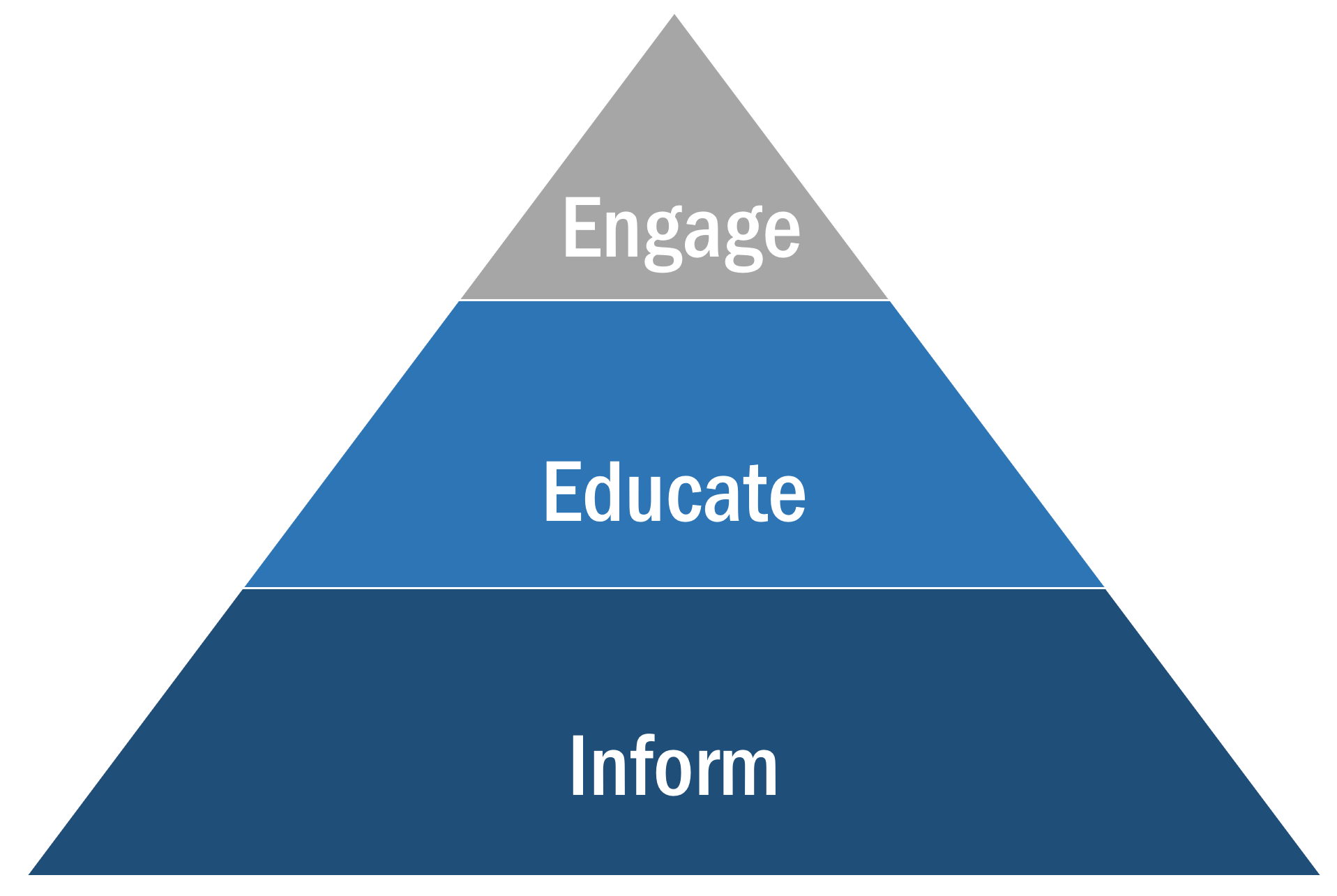 Inform: The most basic level was to inform the public through one-way communication, such as project information flyers, social media posts, and newspaper articles. This ensured that the public knew of the planning process and what they could expect out of it. The committee made several cold calls to invite interest groups to participate in the planning process. By targeting a cross-section of community groups with a vested interest in these concerns, the planning committee was able to leverage the personal connections within these groups to help disseminate the outreach material.
Educate: The next level was to promote two-way communication where the public and the planning committee could learn directly from one another. They did this through several information booths, briefings to elected officials, and a questionnaire sent out for public responses. Increased community buy-in resulted when the public saw their input was valued and being incorporated into the plan update.
Engage: The most detailed level of engagement allows for a direct, interactive dialogue with members of the community. This took the form of planning committee meetings, workshops, and open house events.
The planning committee included several mitigation actions in the plan to research ways to combat the urban heat island effect. This included implementing the Knoxville-Knox County Excessive Heat Plan and developing outreach on excessive heat. One example of the public outreach was the planning committee partnering with the City of Knoxville Energy & Sustainability Initiative to address heat wave concerns. This included partnering with the local chapter of the NAACP's to weatherize homes for populations vulnerable to extreme heat.
Key Takeaways
The mitigation plan demonstrates best practices for public engagement and stakeholder involvement. There are also several notable items that can be used by other communities during their planning process:
Provide multiple opportunities for public involvement aimed at people with a mix of experience and interest in hazard mitigation: The planning committee provided opportunities for people to learn through videos and written notifications as well as opportunities to engage through public meetings and forums for stakeholders.
Consider the planning process as a learning and teaching experience: The mitigation plan set a goal of public engagement, and that goal was advanced through the planning process as well as in the implementation phase.
Reach out to many partners, particularly those who represent the most at-risk communities, and listen to their perspectives: The local NAACP chapter provided feedback on the Hazard Mitigation Plan, expressing concerns about extreme heat events. The planning committee worked with them to include actions to address the hazard.
Related Documents and Links
A FEMA-approved HMP is required for certain kinds of non-emergency disaster funding. To learn more about funding-eligible projects, review the Flood Mitigation Assistance Program, Hazard Mitigation Grant Program and the new pre-disaster mitigation program, Building Resilient Infrastructure and Communities.