Our Mission
To advance FEMA's mission by providing timely and quality legal advice and counsel while maintaining the highest standards of professional integrity and ethics.
Check out the current job openings in FEMA legal roles.
News & Announcements
Graphic
Individuals and Households Program Debt Collection (Recoupment) Appeal Hearings
If FEMA finds that disaster assistance may have been given to applicants who were not eligible for some or all the money they received, the agency issues a Notice of Potential Debt letter. You can appeal the decision in writing and request a hearing — learn about the appeals process.
Graphic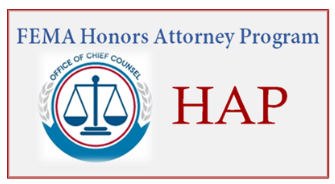 FEMA Honors Attorney Program: Accepting Applications for Fall 2024
The two-year FEMA Honors Attorney Program provides challenging professional opportunities for outstanding, third-year law students with a commitment to public service.
What We Do
Our office is responsible for ensuring that the agency carries out its statutory responsibilities, advising on policies and regulations, and representing the agency in litigation.
Office Functions
Alternative Dispute Resolution Office
Provides a variety of dispute resolution services to support FEMA and partners to help prevent, manage and resolve conflict and to strengthen communication and related skills.
General Law Divisions
Mission Support
Provides legal services related to human capital law and litigation, information and privacy law and litigation, information technology, records management, real and personal property, and tort liability and litigation.
Procurement and Fiscal Law
Advises on fiscal, acquisition, debt collection and appropriations law.
Legal Counsel and Ethics
Brings expertise to congressional, external affairs, legal policy, ethics, disability and equal rights matters.
Regulatory Affairs
Provides legal support and counsel on regulations, rulemaking and associated administrative laws and executive orders.
Operations Law Divisions
Regional and Field Operations
Advises the 10 FEMA regional offices, joint field offices, recovery offices and disaster locations.
Resilience
Provides counsel to FEMA's preparedness and protection-related activities; grant programs to prepare first responders, protect infrastructure, and reduce risk from man-made and natural hazards; and the National Flood Insurance Program. Also provides legal support to FEMA's environmental and historic preservation program.
Response and Recovery
Provides counsel to support FEMA operations to assist those impacted by disaster to respond to and recover from the incident, including though aid for immediate needs, individual assistance, and to rebuild public facilities and infrastructure. Also provides legal services to resolve administrative and legal disputes related to FEMA disaster assistance programs.
Career Opportunities
FEMA OCC is excited to have you explore current career opportunities within our various general law and programmatic legal divisions. The Office of Chief Counsel is always searching for outstanding new and experienced attorneys to join our innovative and collaborative team.
Be a part of FEMA's mission to help people before, during, and after disasters with compassion, fairness, integrity, and respect. OCC's open positions are listed below.  Please click on the individual job announcements for details on the specific positions, experience required, and how to apply.  
Leadership
View the FEMA Offices & Leadership page to learn about this program's key staff.