Release Date:
February 10, 2021
CHARLESTON, W.Va. – It took a small army to handle the traffic headed to Saturday's community vaccine clinic – literally. Members of West Virginia Army National Guard, along with staff from the West Virginia FEMA Integration Team, partnered with local hospitals and community organizations to support the Kanawha-Charleston Health Department and the Kanawha County Emergency Ambulance Authority clinic at the Charleston Coliseum and Convention Center.
Serving in a variety of roles – as greeters, parking assistants, registration assistants, vaccinators and monitors – the team effort led to the administration of 3,475 first and second doses of COVID-19 vaccine to residents 65 and over and essential occupation personnel.
"It's been a real honor to work shoulder-to-shoulder with such a dedicated crew," said Janice Barlow, Acting Regional Administrator, FEMA Region 3. "This team-first approach is what it's going to take to drive down those coronavirus numbers and get the country back on the road to health."
Working with the state as part of the governor's Joint Interagency Task Force, FEMA and the Guard work closely with cabinet-level departments and state healthcare groups.
"As a part of Governor Jim Justice's whole of community and whole of government approach which has resulted in West Virginia being among the very top states in vaccine distribution nationally, our Guard members are on the ground and in communities throughout the state assisting our partner agencies to bring these life-saving vaccines to our fellow West Virginians," stated West Virginia National Guard Adjutant General Brig. Gen. William "Bill" Crane. "Getting shots in arms and saving lives is our highest priority."
Working at the local level, Kanawha County organizers were in lockstep with the governor's mission.
"With every person we vaccinate, we move a little closer to the end of this pandemic," said Dr. Sherri Young, health officer and executive director of the Kanawha-Charleston Health Department. "We're thankful for the help of all the community partners and volunteers that made today's clinic possible."
Also among those participating in this joint effort were staff from the City of Charleston, Kanawha County Commission, West Virginia Health Right free clinics, Charleston Area Medical Center, Thomas Health Systems, FamilyCare, and the University of Charleston.
West Virginians can pre-register for their COVID-19 vaccine at www.vaccinate.wv.gov or by calling the West Virginia COVID-19 Info Line at 1-833-734-0965. Visit https://www.cdc.gov/coronavirus/2019-ncov/vaccines/index.html for more information about the COVID-19 vaccine. To learn more about the president's efforts to combat COVID, go to https://www.whitehouse.gov/wp-content/uploads/2021/01/National-Strategy-for-the-COVID-19-Response-and-Pandemic-Preparedness.pdf.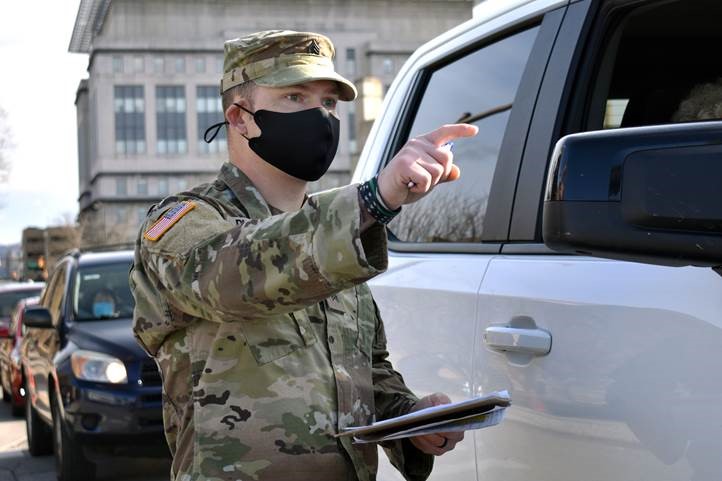 Caption: Sgt. Tyler Rutherford, with the West Virginia National Guard, helps check in participants at the Kanawha-Charleston Health Department and Kanawha County Emergency Ambulance Authority's COVID-19 Vaccine Clinic on Feb. 6, 2021. The event was held at the Charleston Coliseum-Convention Center in Charleston, W.Va. (Philip Maramba/FEMA)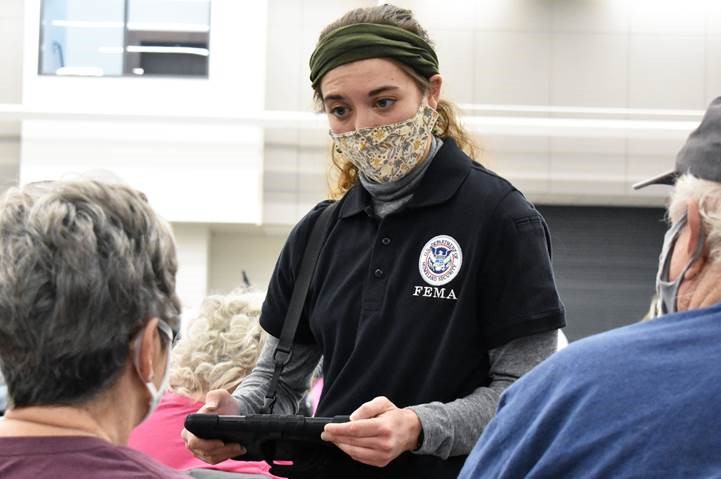 Caption: Heather Thompson, an Emergency Management Specialist at FEMA Region 3 in Philadelphia, takes registrants through pre-vaccination questionnaire at the Kanawha-Charleston Health Department and Kanawha County Emergency Ambulance Authority's COVID-19 Vaccine Clinic on Feb. 6, 2021. The event was held at the Charleston Coliseum-Convention Center in Charleston, W.Va. (Philip Maramba/FEMA)
###
If you have any questions, please contact FEMA Region 3 Office of External Affairs at (215) 931-5597 or at femar3newsdesk@fema.dhs.gov.   FEMA's mission is helping people before, during, and after disasters. FEMA Region 3's jurisdiction includes Delaware, the District of Columbia, Maryland, Pennsylvania, Virginia and West Virginia. Follow us on Twitter at twitter.com/femaregion3 and on LinkedIn at linkedin.com/company/femaregion3