Release Date:
May 6, 2020
WASHINGTON — The whole-of-America response to fighting the COVID-19 pandemic continued today, as National Guardsmen performed support duties in Delaware and Oklahoma, while active-duty soldiers returned from duty in the New York area.  
FEMA continues to expedite movement of commercially pre-sourced and procured critical supplies from the global market to medical distributors in various locations across the U.S. through Project Airbridge.
As of May 5, Project Airbridge has completed 119 flights with an additional 26 scheduled or in transit.  One flight landed in Chicago May 5.  Three flights are scheduled to land today in Chicago, two in Chicago and one in San Francisco.
Through Project Airbridge, the following supplies have been delivered from overseas manufacturers to the U.S. and into private sector supply chains from March 29 to May 5:
More than 768,000 N-95 masks.
More than 886 million gloves.
More than 84 million surgical masks.
More than 14.1 million surgical gowns.
More than 2.3 million thermometers.
More than 786,000 face shields.
More than 324,000 coveralls.
More than 109,000 stethoscopes.
More than 370,000 oxygen masks.
More than 250,000 swabs.
More than 160,000 cannulas.
FEMA has obligated more than $5.8 billion in emergency protective measures. In the last 24 hours, that amount includes $78 million to the state of Iowa.  
Medical Task Force Soldiers Return to Fort Meade, Md. After Duty in New York
FORT MEADE, Md. (May 4, 2020) — U.S. Army Soldiers from 338-1 Urban Augmentation Medical Task Force, Fort Meade, wait for room assignments after returning from duty in the New York City area.
U.S. Army photo by Spc. Chafelmer Kroll  
U.S. Postal Service Supports DHS with Shipping Expertise
CUMBERLAND, Md. (May 5, 2020) — A U.S. Postal Service worker loads boxes of respirators and masks for shipping across the country for U.S. Immigration and Custom Enforcement employees. The postal service provided a post office style operation at FEMA's Cumberland Distribution Center to quickly process and load the PPE for shipment.
FEMA photo by Rudy Marshall  
Delaware National Guard Supports COVID-19 Testing Site in Sussex County
SEAFORD, Del. (May 5, 2020) — Marisela Serna, a registered nurse with Nanticoke Health Services, wears PPE during a community-based coronavirus testing event at Frederick Douglass Middle School. The mobile drive-thru event, staffed by members of the Delaware National Guard, Delaware Division of Public Health, La Red Health Center, Nanticoke Health Services and Nemours duPont Pediatrics, provided rapid and nasal swab testing for essential employees, at-risk populations and individuals likely exposed to someone with COVID-19.
U.S. Army National Guard photo by Capt. Brendan Mackie  
Oklahoma National Guard Medics Assist COVID-19 Testing
TULSA, Okla. (May 5, 2020) — Staff Sgt. Rachelle Reed, a combat medic with the 45th Infantry Brigade Combat Team, Oklahoma Army National Guard, walks through a long-term healthcare facility in Tulsa. Throughout the day, Reed and three other combat medics collected a total of 240 saliva samples as a part of Oklahoma's whole-of-America response to COVID-19.
Oklahoma Air National Guard photo by Tech. Sgt. Rebecca Imwalle  
Sisseton Wahpeton Oyate Tribe Receives Infant, Baby Supplies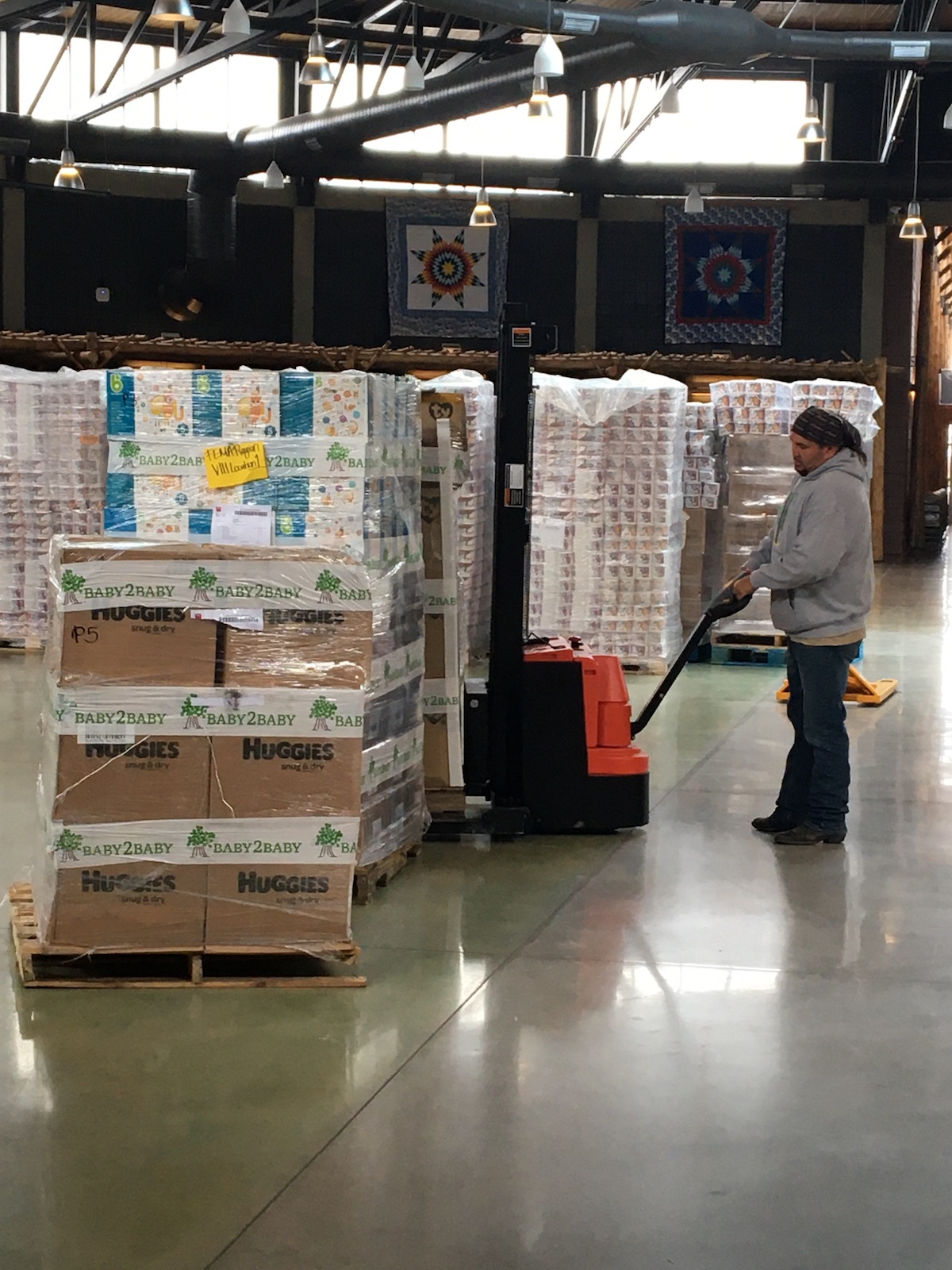 LAKE TRAVERSE RESERVATION, S.D. — The Sisseton Wahpeton Oyate Tribe in South Dakota receives baby supplies for the tribe's Early Childhood Intervention Program, which supports 900 children on the Lake Traverse Reservation. The FEMA Region 8 team worked closely with the tribe and the nonprofit, Baby2Baby, to secure the infant and baby supplies.
Sisseton Wahpeton Oyate Tribe photo by Jim Pearson  
###