Texas Severe Winter Storms (DR-4586-TX)
This is an active disaster. Apply for assistance.
Incident Period: February 11, 2021 - February 21, 2021
Declaration Date: February 19, 2021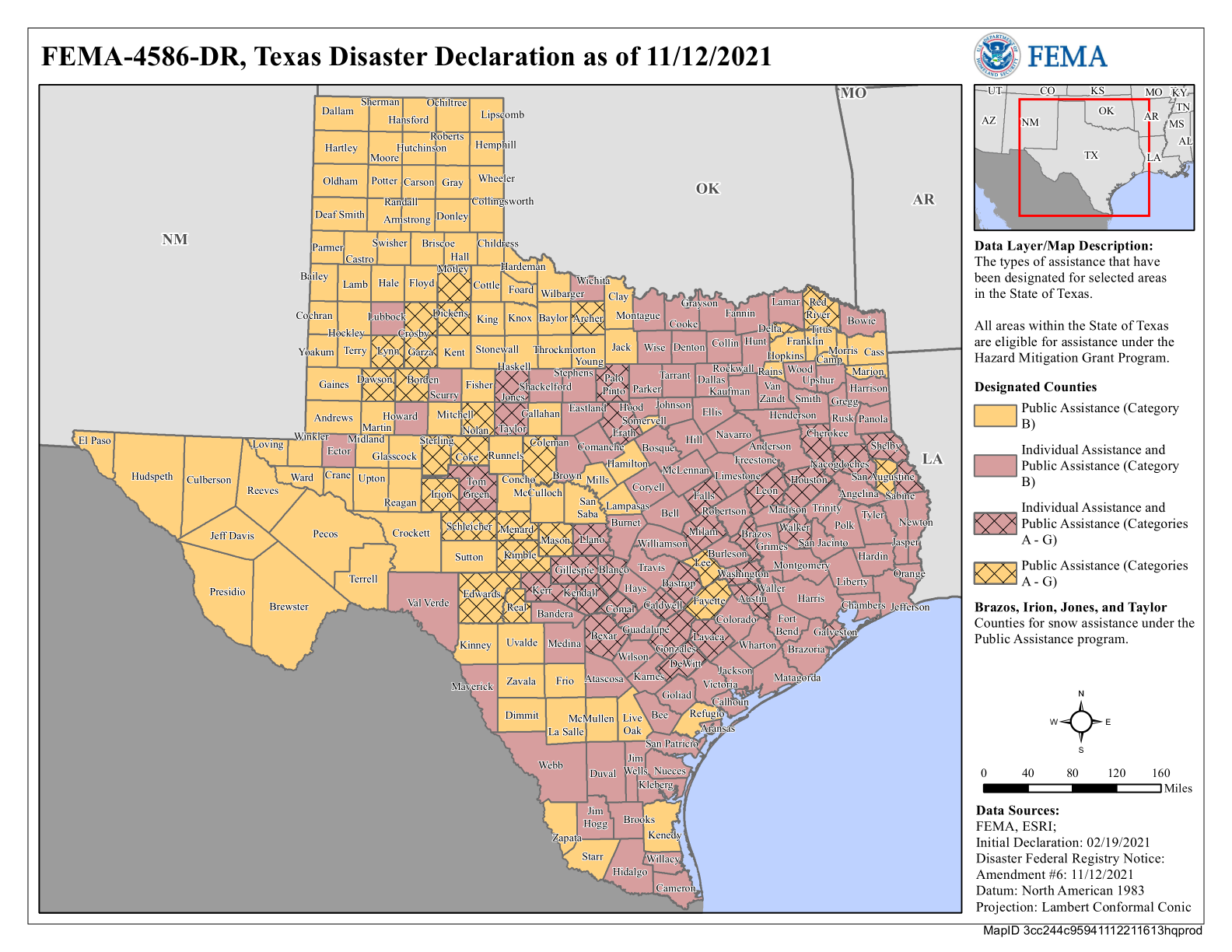 Quick Links
Visit the Texas state page for more localized information.
Find Texas Ice Storm Disaster Information in your language HERE:
Arabic | Chinese | Hindi | Japanese | Korean | Russian | Spanish | Tagalog | Urdu | Vietnamese
Apply for Assistance
If you sustained damage from snow and ice during the winter storms and you have insurance, contact your insurance company and then FEMA. Your insurance claim information is needed to determine eligibility for federal assistance.
Help After A Disaster
I Applied For Assistance. What's Next?
You will receive notification letters from FEMA either by U.S. mail or by electronic correspondence. You may need to verify your identity or complete a home inspection.
Learn About the Steps After Applying | Steps To Start Your Recovery Process | Best way to send disaster documents
"Help After a Disaster" Brochures
Translated into 27 languages, the "Help After a Disaster" brochure is a tool that can be shared in your community to help people understand the types of FEMA Individual Assistance support that may be available in disaster recovery.
Small Business Administration
To meet the needs of disaster survivors, FEMA partners with other agencies. FEMA works with the U.S. Small Business Administration (SBA) to offer low-interest disaster loans to homeowners and renters in a declared disaster area. You do not need to own a business to apply for a disaster loan. You may receive a phone call to advise you of ways to apply for the Small Business Administration.
Rumor Control
Rumor: FEMA is paying for hotels if you dial a number for "Texas Disaster Relief".
Fact: There is a false phone number being shared on social media and text messages saying FEMA is paying for hotels in Texas due to the recent storm. This is a scam. The best information on legitimate sources of help in your area will come from local officials or the Texas Division of Emergency Management. If you are in one of the designated counties, you may apply for FEMA assistance online at DisasterAssistance.gov or by calling 1-800-621-3362.
February 24, 2021
RUMOR: FEMA will pay for insurance deductibles for disaster survivors.
Fact: FEMA provides financial benefits to eligible applicants who are not insured or underinsured, but those benefits occur after insurance settlement. FEMA can't duplicate benefits from insurance or pay your deductible.
February 21, 2021
Local Resources
If you need assistance with anything not covered by insurance, local voluntary organizations in your community may be able to help. You can also call 211 for assistance.
Texas Department of Insurance (TDI)
U.S. Department of Agriculture
Texas Attorney General
How To Help
Donate
Cash is the best way to help. Coordinate before collecting in-kind items.
Visit website for donation information.
Volunteer
Coordinate before deploying!
Visit txvoad.org/volunteer to understand how best to volunteer in TX.
Financial Assistance
| Individual Assistance | Amount |
| --- | --- |
| Total Housing Assistance (HA) - Dollars Approved | $128,736,389.94 |
| Total Other Needs Assistance (ONA) - Dollars Approved | $12,665,705.30 |
| Total Individual & Households Program Dollars Approved | $141,402,095.24 |
| Individual Assistance Applications Approved | 45348 |
| Public Assistance | Amount |
| --- | --- |
| Total Public Assistance Grants Dollars Obligated | $0.00 |
| Hazard Mitigation Assistance | Amount |
| --- | --- |
| Hazard Mitigation Grant Program (HMGP) - Dollars Obligated | $0.00 |
Events
Mar 18, 2021 9:00 AM EST
-
Apr 21, 2021 7:00 PM EST
Virtual
DR-4586 -TX (Texas Winter Storms) Mitigation means acting now to reduce future risk of disaster. You can repair/rebuild safer and stronger after the February winter storms, and Community Education and Outreach Specialists can help you on your recovery journey.
Designated Counties (Individual Assistance)
Anderson (County)
Angelina (County)
Aransas (County)
Atascosa (County)
Austin (County)
Bandera (County)
Bastrop (County)
Bee (County)
Bell (County)
Bexar (County)
Blanco (County)
Bosque (County)
Bowie (County)
Brazoria (County)
Brazos (County)
Brooks (County)
Brown (County)
Burleson (County)
Burnet (County)
Caldwell (County)
Calhoun (County)
Cameron (County)
Chambers (County)
Cherokee (County)
Collin (County)
Colorado (County)
Comal (County)
Comanche (County)
Cooke (County)
Coryell (County)
Dallas (County)
DeWitt (County)
Denton (County)
Duval (County)
Eastland (County)
Ector (County)
Ellis (County)
Erath (County)
Falls (County)
Fannin (County)
Fort Bend (County)
Freestone (County)
Galveston (County)
Gillespie (County)
Goliad (County)
Gonzales (County)
Grayson (County)
Gregg (County)
Grimes (County)
Guadalupe (County)
Hardin (County)
Harris (County)
Harrison (County)
Hays (County)
Henderson (County)
Hidalgo (County)
Hill (County)
Hood (County)
Houston (County)
Howard (County)
Hunt (County)
Jackson (County)
Jasper (County)
Jefferson (County)
Jim Hogg (County)
Jim Wells (County)
Johnson (County)
Jones (County)
Karnes (County)
Kaufman (County)
Kendall (County)
Kleberg (County)
Lavaca (County)
Leon (County)
Liberty (County)
Limestone (County)
Llano (County)
Lubbock (County)
Madison (County)
Matagorda (County)
Maverick (County)
McLennan (County)
Medina (County)
Milam (County)
Montague (County)
Montgomery (County)
Nacogdoches (County)
Navarro (County)
Newton (County)
Nueces (County)
Orange (County)
Palo Pinto (County)
Panola (County)
Parker (County)
Polk (County)
Robertson (County)
Rockwall (County)
Rusk (County)
Sabine (County)
San Jacinto (County)
San Patricio (County)
Scurry (County)
Shelby (County)
Smith (County)
Stephens (County)
Tarrant (County)
Taylor (County)
Tom Green (County)
Travis (County)
Trinity (County)
Tyler (County)
Upshur (County)
Val Verde (County)
Van Zandt (County)
Victoria (County)
Walker (County)
Waller (County)
Washington (County)
Webb (County)
Wharton (County)
Wichita (County)
Willacy (County)
Williamson (County)
Wilson (County)
Wise (County)
Wood (County)
Last updated April 15, 2021