Virgin Islands Hurricane Maria (DR-4340-VI)
Incident Period: September 16, 2017 - September 22, 2017
Declaration Date: September 20, 2017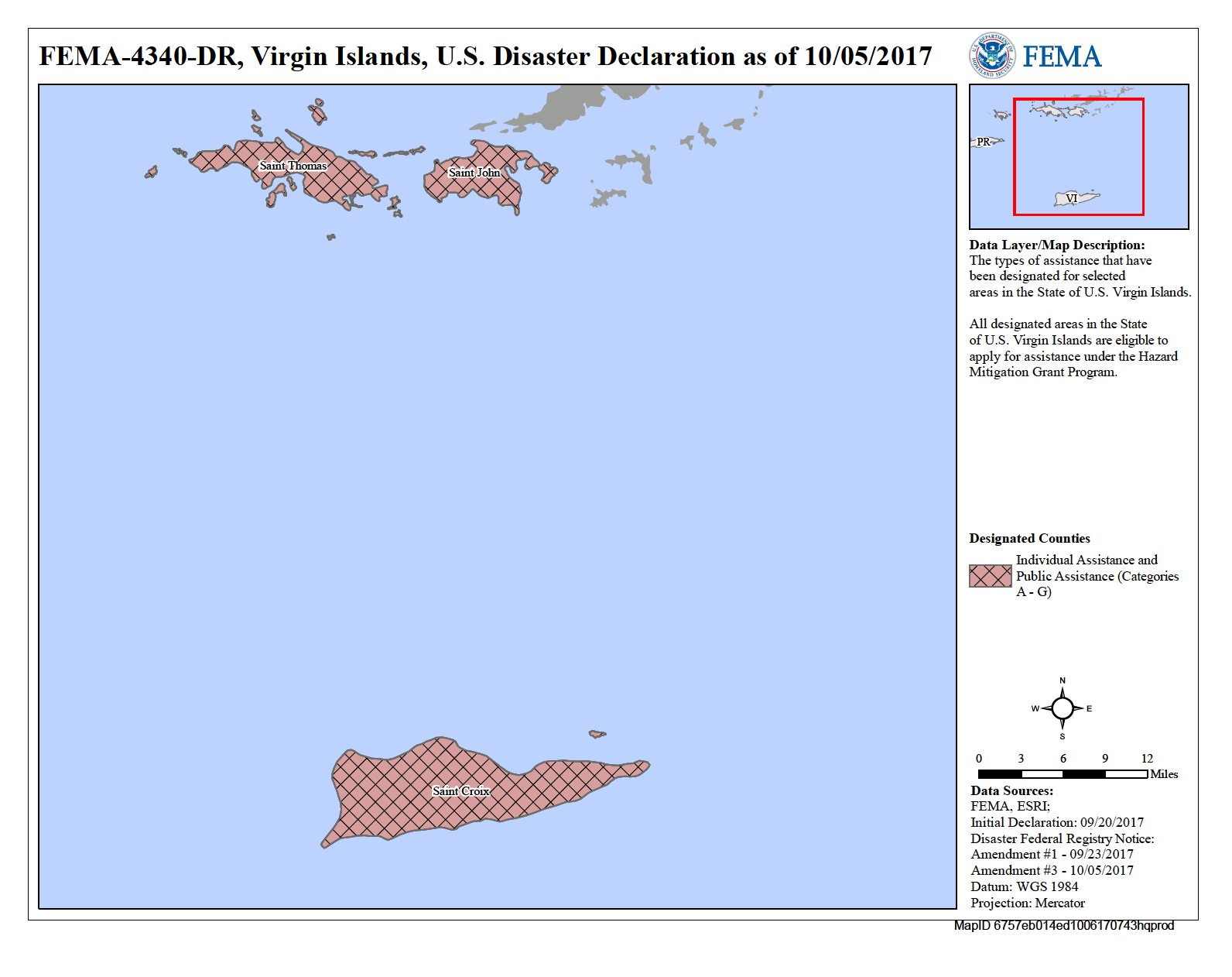 Financial Assistance
| Individual Assistance | Amount |
| --- | --- |
| Total Housing Assistance (HA) - Dollars Approved | $30,365,387.35 |
| Total Other Needs Assistance (ONA) - Dollars Approved | $13,746,862.48 |
| Total Individual & Households Program Dollars Approved | $44,112,249.83 |
| Individual Assistance Applications Approved | 11701 |
| Public Assistance | Amount |
| --- | --- |
| Emergency Work (Categories A-B) - Dollars Obligated | $1,418,278,540.40 |
| Permanent Work (Categories C-G) - Dollars Obligated | $708,065,116.60 |
| Total Public Assistance Grants Dollars Obligated | $2,336,346,141.56 |
| Hazard Mitigation Assistance | Amount |
| --- | --- |
| Hazard Mitigation Grant Program (HMGP) - Dollars Obligated | $51,132,528.00 |
Recovery Advisories
FEMA building scientists have created a new series of Recovery advisories to show homeowners, contractors, builders and others techniques to make structures more wind and flood resistant.
Damage to structures from hurricanes Maria and Irma could have been prevented or significantly reduced with different construction techniques. Applying the lessons and ideas in these advisories can help people and communities be better prepared for the next hurricanes, able to recover faster and at less expense.
Click the links below to download these Recovery Advisories:
RA 1 - USVI - Rebuilding Your Flood-Damaged House
RA 2 - USVI - Attachment of Rooftop Equipment in High-Wind Regions
RA 3 - USVI - Installation of Residential Corrugated Metal Roof Systems
RA 4 - USVI - Design, Installation and Retrofit of Doors Windows and Shutters
RA 5 - Rooftop Solar Panel Attachment: Design, Installation, and Maintenance
How to Help
Thank you for your interest in helping the survivors of Hurricane Irma and Maria in the U.S. Virgin Islands. To help people affected by the hurricanes, visit @nvoad's page for a listed of trusted organizations. To help, remember:
Cash is best. Financial contributions to recognized disaster relief organizations are the fastest, most flexible, and most effective method of donating. Organizations on the ground know what items and quantities are needed, often buy in bulk with discounts and, if possible, purchase through area businesses which supports economic recovery.
Confirm donations needed. Critical needs change rapidly – confirm needed items BEFORE collecting; pack and label carefully; confirm delivery locations; arrange transportation. Unsolicited goods NOT needed burden local organizations' ability to meet survivors' confirmed needs, drawing away valuable volunteer labor, transportation, and warehouse space.
Connect to volunteer. Trusted organizations operating in the affected area know where volunteers are needed, and can ensure appropriate volunteer safety, training, and housing.
There are other ways to help. When disaster strikes, America looks to FEMA to support survivors and first responders in communities all across the country. We are currently seeking talented and hard-working people to help support the response and recovery.
Helping Children Cope
Children may cope more effectively with a disaster when they feel they understand what is happening and what they can do to help protect themselves, their family, and friends. Here's how you can help them cope:
Talk about the concerns about the storm with your children. To not talk about it makes it even more threatening in your children's mind. Start by asking what your children have already heard and what understanding they have. As your children explain, listen for misinformation, misconceptions, and underlying fears or concerns, and then address these.
Explain - as simply and directly as possible - what is happening or likely to happen. The amount of information that will be helpful to children depends on their age and developmental level, as well as their coping style. For example, older children generally want and will benefit from more detailed information than younger children. Because every child is different, take cues from your own children as to how much information to provide.
Encourage your children to ask questions, and answer those questions directly. Like adults, children are better able to cope with a crisis if they feel they understand it. Question-and-answer exchanges help to ensure ongoing support as your children begin to understand the crisis and the response to it.
Limit television viewing of disasters and other crisis events, especially for younger children. Consider coverage on all media, including the internet and social media. When older children watch television, try to watch with them and use the opportunity to discuss what is being seen and how it makes you and your children feel.
Reassure children of the steps that are being taken to keep them safe. Disasters and other crises remind us that we are never completely safe from harm. Now more than ever it is important to reassure children that, in reality, they should feel safe in their schools, homes, and communities.
Consider sharing your feelings about a crisis with your children. This is an opportunity for you to role model how to cope and how to plan for the future. Before you reach out, however, be sure that you are able to express a positive or hopeful plan.
Help your children to identify concrete actions they can take to help those affected by recent events. Rather than focus on what could have been done to prevent a disaster or other crisis, concentrate on what can be done now to help those affected by the event.
Play games and do activities together to create meaningful dialogue and offer a distraction.
If you have concerns about your children's behavior, contact your children's pediatrician, other primary care provider, or a qualified mental health professional
Designated Counties (Individual Assistance)
St. Croix (Island) (County-equivalent)
St. John (Island) (County-equivalent)
St. Thomas (Island) (County-equivalent)
Preliminary Damage Assessment Documents
Last updated October 21, 2020