West Virginia Severe Storms, Flooding, Landslides, And Mudslides (DR-4331-WV)
Incident Period: July 28, 2017 - July 29, 2017
Declaration Date: August 18, 2017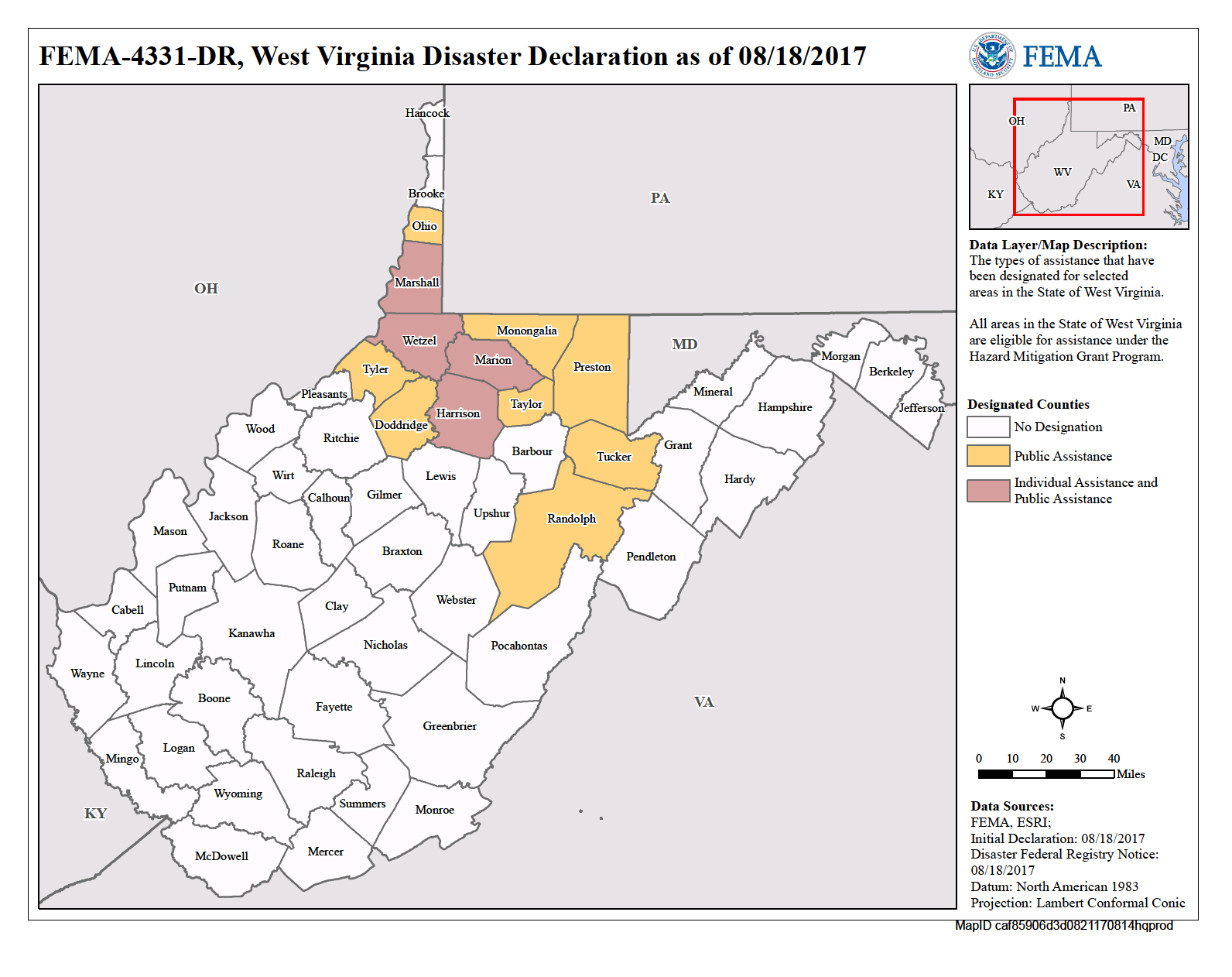 Financial Assistance
| Individual Assistance | Amount |
| --- | --- |
| Total Housing Assistance (HA) - Dollars Approved | $2,279,644.59 |
| Total Other Needs Assistance (ONA) - Dollars Approved | $490,553.14 |
| Total Individual & Households Program Dollars Approved | $2,770,197.73 |
| Individual Assistance Applications Approved | 469 |
| Public Assistance | Amount |
| --- | --- |
| Emergency Work (Categories A-B) - Dollars Obligated | $1,635,551.63 |
| Permanent Work (Categories C-G) - Dollars Obligated | $13,549,188.86 |
| Total Public Assistance Grants Dollars Obligated | $15,252,303.54 |
| Hazard Mitigation Assistance | Amount |
| --- | --- |
| Hazard Mitigation Grant Program (HMGP) - Dollars Obligated | $2,482,313.20 |
Types of Assistance
If you have questions about types of assistance available to you, the best way to get answers is to contact a FEMA representative who can walk you through your options. Call 800-621-3362 (711 or Video Relay Service). If you use TTY, call 800-462-7585. You can also visit a Disaster Recovery Center to speak with a representative in person.
What To Expect
Fact Sheets
Individual Assistance Program Fact Sheet
Public Assistance Program Fact Sheets
Disaster Survivor Assistance (DSA) Team Fact Sheet
News and Information
No articles have been tagged with this disaster.
Designated Counties (Individual Assistance)
Harrison (County)
Marion (County)
Marshall (County)
Wetzel (County)
Preliminary Damage Assessment Documents
Last updated Sep 15, 2020