Texas Severe Storms And Flooding (DR-4272-TX)
Incident Period: May 22, 2016 - June 24, 2016
Declaration Date: June 11, 2016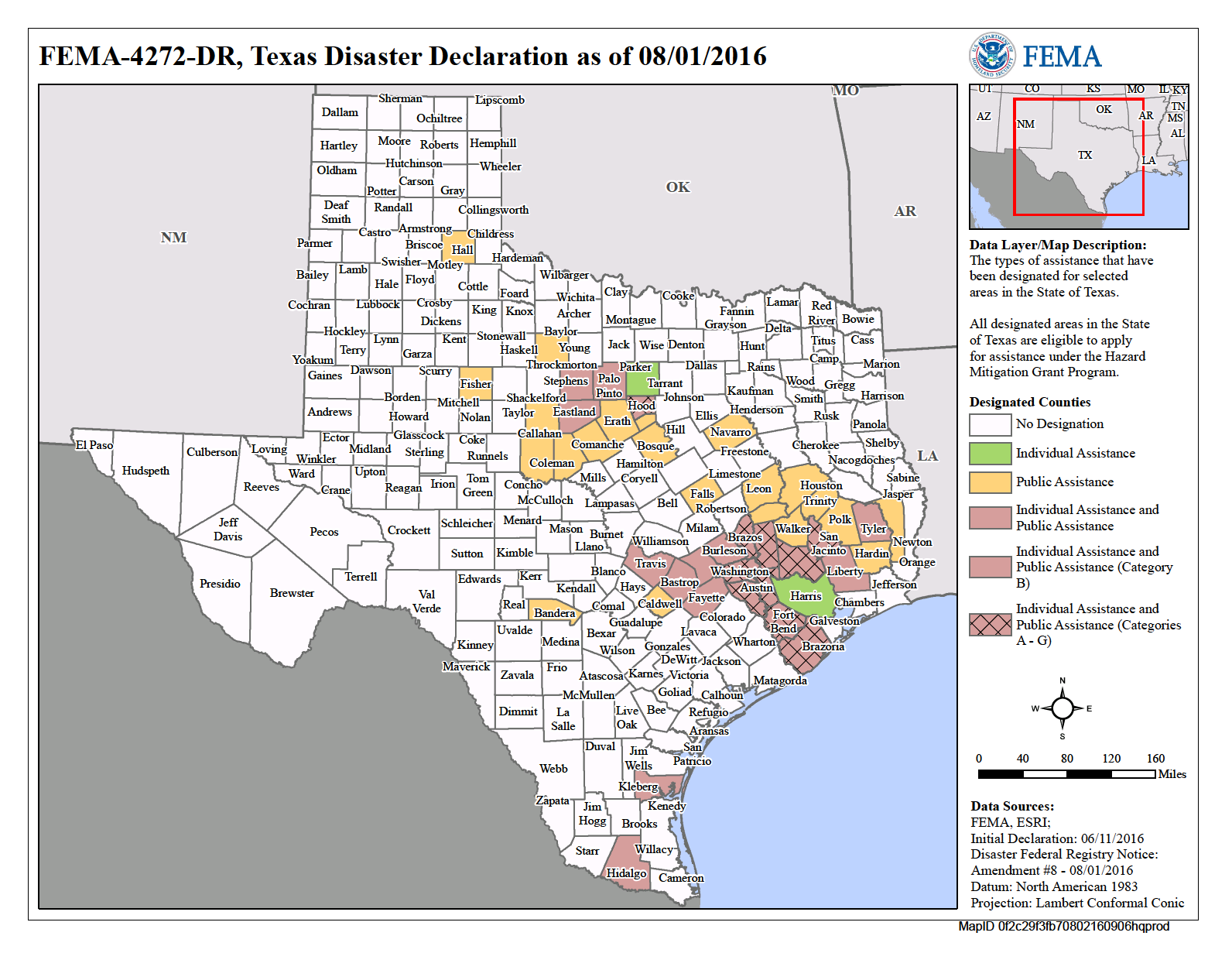 Financial Assistance
| Disaster Declaration | Amount |
| --- | --- |
| Individual Assistance Applications Approved | 5697 |
| Total Individual & Households Program Dollars Approved | $40,647,560.21 |
| Total Housing Assistance (HA) - Dollars Approved | $34,026,997.09 |
| Total Other Needs Assistance (ONA) - Dollars Approved | $6,620,563.12 |
Mitigation
This page contains mitigation information and resources for residents and communities in Texas recovering from disaster.
For more information on Texas mitigation, you can also visit the FEMA Mitigation Page for Texas.
Hazard Mitigation is the effort to reduce loss of life and property by lessening the impact of future disasters by taking action now — before the next disaster — to reduce human and financial consequences later.
Please check back here for future mitigation outreach information in Texas.
Designated Counties (Individual Assistance)
Austin (County)
Bastrop (County)
Brazoria (County)
Brazos (County)
Burleson (County)
Eastland (County)
Fayette (County)
Fort Bend (County)
Grimes (County)
Harris (County)
Hidalgo (County)
Hood (County)
Kleberg (County)
Lee (County)
Liberty (County)
Montgomery (County)
Palo Pinto (County)
Parker (County)
San Jacinto (County)
Stephens (County)
Travis (County)
Tyler (County)
Waller (County)
Washington (County)
News and Information
No articles have been tagged with this disaster.
Contact Us
For contact information click here. 
Last updated Mar 20, 2020