Designated Areas: Disaster 3322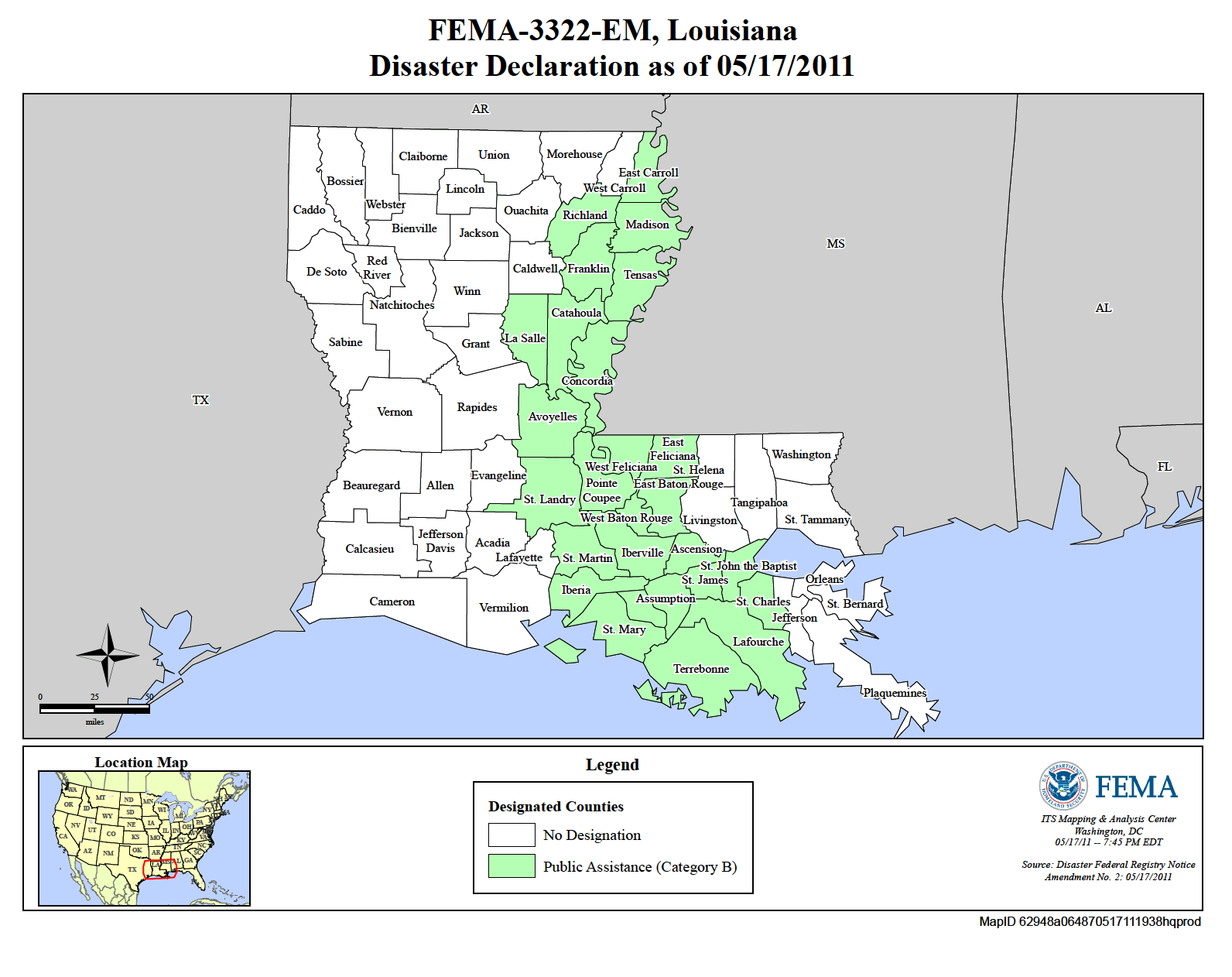 Public Assistance
State, local, tribal and territorial governments and certain private-non-profit organizations in these designated counties are eligible for assistance for emergency work and the repair or replacement of disaster-damaged facilities. Learn more about the Public Assistance program.
PA-B
Ascension (Parish)
Assumption (Parish)
Avoyelles (Parish)
Catahoula (Parish)
Concordia (Parish)
East Baton Rouge (Parish)
East Carroll (Parish)
East Feliciana (Parish)
Franklin (Parish)
Iberia (Parish)
Iberville (Parish)
La Salle (Parish)
Lafourche (Parish)
Madison (Parish)
Pointe Coupee (Parish)
Richland (Parish)
St. Charles (Parish)
St. James (Parish)
St. John the Baptist (Parish)
St. Landry (Parish)
St. Martin (Parish)
St. Mary (Parish)
Tensas (Parish)
Terrebonne (Parish)
West Baton Rouge (Parish)
West Feliciana (Parish)
How a Disaster Gets Declared
The Robert T. Stafford Disaster Relief and Emergency Assistance Act states in part that: "All requests for a declaration by the President that a major disaster exists shall be made by the governor of the affected state or territory, or by the tribal leader."
Visit our How a Disaster Gets Declared page for detailed information on the rules and procedures that guide the process, including:
Requirements governors/leaders follow when submitting their request for a presidential disaster declaration.
Authorities granting federally recognized Indian tribal governments the option to request a presidential emergency or major disaster declaration.
How FEMA regional offices work with state or Indian tribal governments to conduct Preliminary Damage Assessments (PDAs).
Factors that determine when individual assistance is made available.