Old photographs of your great grandfather, vintage vinyl albums, handmade quilts, beloved books. These are just some family treasures that may be in your home when disaster strikes.
While it may not be possible to completely restore these items, it is often possible to save them. Teaching people how to save family treasures is some of the work being done by FEMA's Office of Environmental Planning and Historic Preservation and our partner, the Smithsonian Cultural Rescue Initiative (SCRI). This partnership leads the Heritage Emergency National Task Force, which is made up of more than 60 organizations and federal agencies. Together, they work to protect our cultural heritage from the damaging effects of disasters and other emergencies.
Last month, FEMA and SCRI held the first Save Your Family Treasures class at FEMA's Emergency Management Institute designed to train our specialists on techniques that the public can use to save water-damaged items.
"We are training members from the Environmental and Historic Preservation cadre on how to save family treasures," said Lori Foley, FEMA Coordinator of the Heritage Emergency National Task Force. She explained that their end goal is to be able to send members of this cadre to Disaster Recovery Centers, where survivors can talk to them about their damaged items. "We'd like this program to enable and empower individuals to save the things that matter the most to them."
Foley says the training helps people save beloved items like photographs, grandma's recipes, family bibles, sheet music and more. Often these items contain notes, dates and other important family history.
"That information doesn't exist anywhere else within the family, so we try to help individuals walk through those steps to save them," she said.
During the training, students were brought outside to work with wet items. This helped them better understand how heavy and fragile items can be when wet. Students were given the opportunity to pull items from a pool, understand how to separate them (such as taking photos from frames) and practice laying them out individually to dry.
Each pool focused on specific types of damaged items: textiles, photos, books and documents, and a final pool for miscellaneous objects.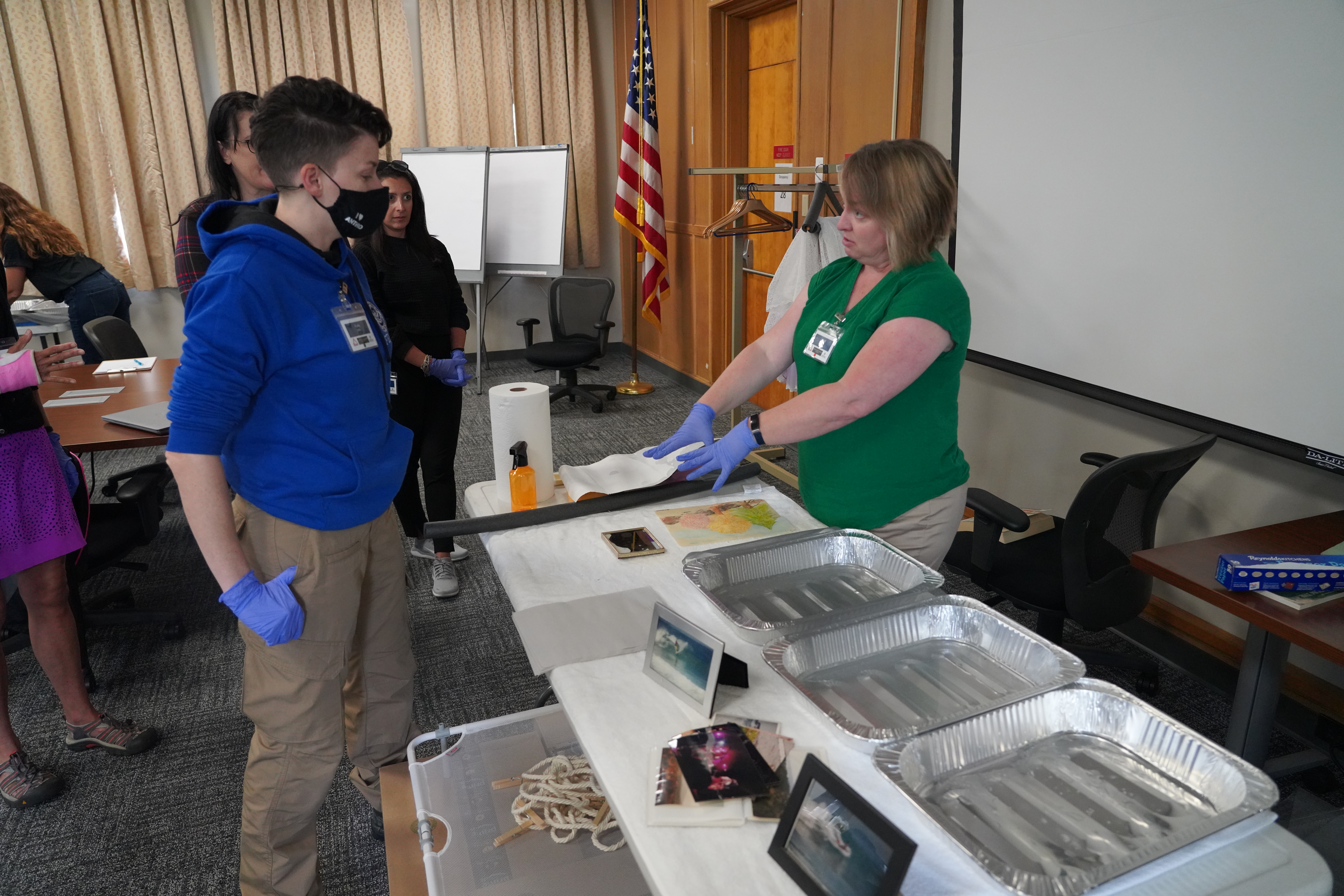 After students worked with these items, they were brought inside to learn techniques they could use to save them. This included rinsing photos in distilled water, using a paintbrush to loosen dirt from fragile objects and performing proper drying techniques.
Once students learned techniques for how to salvage items, they practiced how they would use items from their kits to teach survivors how they can do it on their own. Kits included items they can use for demonstration such as clotheslines, books, sweater dryers, gloves, a paint brush and more.
Students in this pilot class will be deployed to Disaster Recovery Centers with these kits, which they will use to help teach disaster survivors. For many, this is not their only training in this field. Several of the students come from archeology backgrounds. Others, like Laura Jordan, have more personal ties to the work being done.
"Getting this Collection Care Specialist class under my belt is very important for me as a Hurricane Harvey survivor," Jordan said. "Back in 2017, I personally witnessed the destruction firsthand of what happened to my keepsakes, my personal items, my family's items."
She said that it was devastating to lose books, photos, clothing and important blankets that her family made.
"When you have to return to that devastation and look at that, you wonder if any piece of you that created who you are today is salvageable," she said. "When you take these types of courses, it really teaches you and informs you and instructs you on how to be your own hero. Not just for yourself, but for the communities you are trying to help, so they don't have to go through what you went through and so they know there is hope for piecing yourself together again after the worst strikes you."
Historic Preservation Specialist Laura Jordan (center) learns how to handle books damaged by water.
Once the students learned techniques for how to salvage items, they were able to practice teaching them to their fellow students.
For Foley, this is the goal of the program.
"You can never have enough people trained to help others save the things that matter to them," Foley said. "We'd love to have a whole cadre devoted to saving cultural and historic resources that enable us to work not just with individuals and families but also with cultural institutions and arts organizations. We want to make sure what defines us as Americans is saved for future generations."
For more information, visit the Save Your Family Treasures FEMA page.