At the end of each week, we post a "What We're Watching" blog as we look ahead to the weekend and recap events from the week. We encourage you to share it with your friends and family, and have a safe weekend.
To round out the week, here are a few of the updates from around our digital channels that showcase what's at the top of our list this week:
From Facebook: Peak hurricane season is here
Earlier this week, the FEMA Facebook page posted this graphic from the National Oceanic and Atmospheric Administration (NOAA).  It shows the number of hurricanes and tropical storms over the last 100 years, and as you can see, we're entering the peak of the Atlantic hurricane season: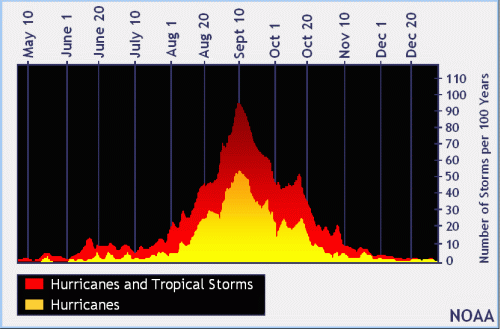 And in line with this time of year, we're currently monitoring a tropical depression in the Atlantic.  It's still too early to tell whether it will have an impact on the U.S., but now's the time to make sure you and your family are prepared for the rest of the hurricane season.  Two easy ways are to have a plan, should a hurricane threaten your community, and have emergency supplies standing ready at home, in your car, and at your workplace.   
Ready.gov/hurricanes is a great place to start your planning, or at //m.fema.gov/hurricanes on your phone.
From the blog: AARP partnership
Earlier this week, I shared my thoughts about a new partnership between FEMA and the AARP.  Partnerships are critical to successful emergency management – as this video reinforces from Administrator Fugate and AARP CEO, Barry Rand:
So check out the blog post and let us know your thoughts!
From Twitter: National Preparedness Month
In case you didn't know, September is National Preparedness Month.  It's a time when FEMA and our partners make an extra effort to share the importance of people being prepared before a disaster strikes.  FEMA's Ready campaign is a key player in National Preparedness Month, and this year they've made it easy to host your own preparedness event during September:
Planning a National Preparedness Month event has never been so easy. Download the #NATLPREP toolkit: //t.co/snnJMfWqYl

— Readygov (@Readygov) August 15, 2013
I encourage you to join the preparedness community at community.fema.gov and share how you're planning on getting your family, business, or neighborhood better prepared for emergencies.
With that, have a great and safe weekend!