FY22 Funding
Get Started
Program Resources
News
Contact
Building Resilient Infrastructure and Communities (BRIC) will support states, local communities, tribes and territories as they undertake hazard mitigation projects, reducing the risks they face from disasters and natural hazards.
The BRIC program guiding principles are supporting communities through capability- and capacity-building; encouraging and enabling innovation; promoting partnerships; enabling large projects; maintaining flexibility; and providing consistency.
Graphic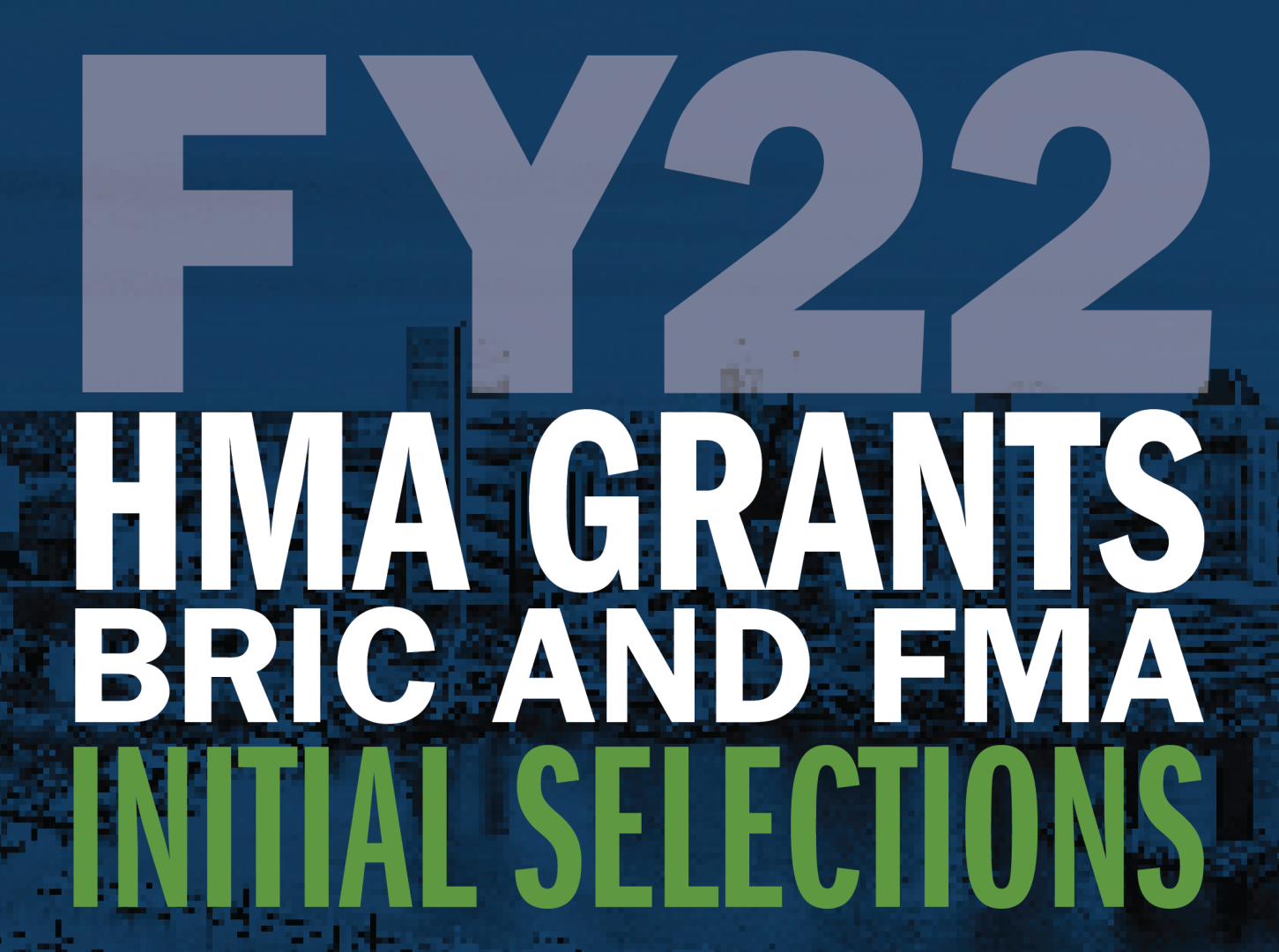 Hazard Mitigation Assistance (HMA) Fiscal Year 2022 BRIC and FMA Initial Selections
FEMA announced the initial project selections for further review to receive fiscal year 2022 (FY22) Building Resilient Infrastructure and Communities (BRIC) and Flood Mitigation Assistance (FMA) grant funding.
For Building Resilient Infrastructure and Communities, FEMA received 803 subapplications totaling $4.6 billion in federal cost share.
Read More
Fiscal Year 2022 Funding Summaries
The BRIC grant program give states, local communities, tribes and territories funding to address future risks to natural disasters, including ones involving: wildfires, drought, hurricanes, earthquakes, extreme heat, and flooding. Addressing these risks helps make communities more resilient.
The Building Resilient Infrastructure and Communities grant program received 803 subapplications totaling more than $4.6 billion from 55 states, territories, and the District of Columbia. The agency also received requests from 37 tribal governments totaling more than $56.2 million in the tribal set-aside funds.
Of the 803 Building Resilient Infrastructure and Communities grant program submissions, FEMA received subapplications from 127 self-identified Economically Disadvantaged Rural Communities, a 15% increase from last year.
The program offers an increased cost share, 90% federal share, for Economically Disadvantaged Rural Communities as well as 100% management costs for all.
One unique element of this program is the funding structure comprised of three separate application opportunities.  The state and territory allocation and the tribal set-aside is announced in May 2023.  The third element, the status of the national competition subapplications will be announced later this summer.
Read more about FEMA's initial selections of the 325 eligible subapplications for grant funds.
Previously selected subapplications for the Building Resilient Infrastructure and Communities grant program are available here.
Direct Technical Assistance
In addition to providing funding, the BRIC program offers help to communities in the form of non-financial Direct Technical Assistance that can provide holistic hazard mitigation planning and project support. There is no requirement for a previous BRIC grant sub-application or award, or an approved hazard mitigation plan, to be considered for non-financial Direct Technical Assistance. Read more about the latest communities selected for this opportunity.
Get Started
Learn about the available funding, who's eligible to apply, types of activities eligible for funding, and what to expect when you apply.
Get important application dates, resources to navigate FEMA GO, criteria required in your application and details on the documentation you need to include.
Understand your application status, the appeal process and how to manage your award.
Read about the mission and vision of the BRIC program, see its past and future timeline and access summaries of stakeholders' feedback on its creation.
Read this fact sheet to learn about other programs available under Hazard Mitigation Assistance.
BRIC Resources
Graphic
Program Support Materials
Visit our Resource List for BRIC. Use these resources to support building codes, partnerships, project scoping and more.
Status update of the FY 2021 BRIC subapplication selections.
FEMA Resources for Climate Resilience helps state, local, tribal and territorial partners find and use FEMA resources. These can help communities adapt to the impacts of climate change and build resilience.
BRIC Policy establishes the framework and requirements for the program. while allowing flexibility to promote continuous program improvement through priorities and criteria set forth in the annual Notice of Funding Opportunity (NOFO).
FEMA GO is the grants management system. Use this to apply for BRIC grants.
News and Announcements
Sorry, there were no results based on your filter selections.
Please reset the filter or change your selections and try again.
Contact
Prospective subapplicants should contact their appropriate state, tribe or territory (applicant level) Hazard Mitigation Office with questions about the BRIC program.