Graphic
Our Story
Join the Resilient Nation Movement
Building a Network
Mobilizing Resilience
The Resilient Nation Partnership Network (RNPN) is a unique network of organizations and individuals united to help communities take action and become more resilient. Our mission is to inform, educate, and motivate communities to protect themselves from the loss of life, property, and prosperity as a result of natural hazards.
FEATURED
Graphic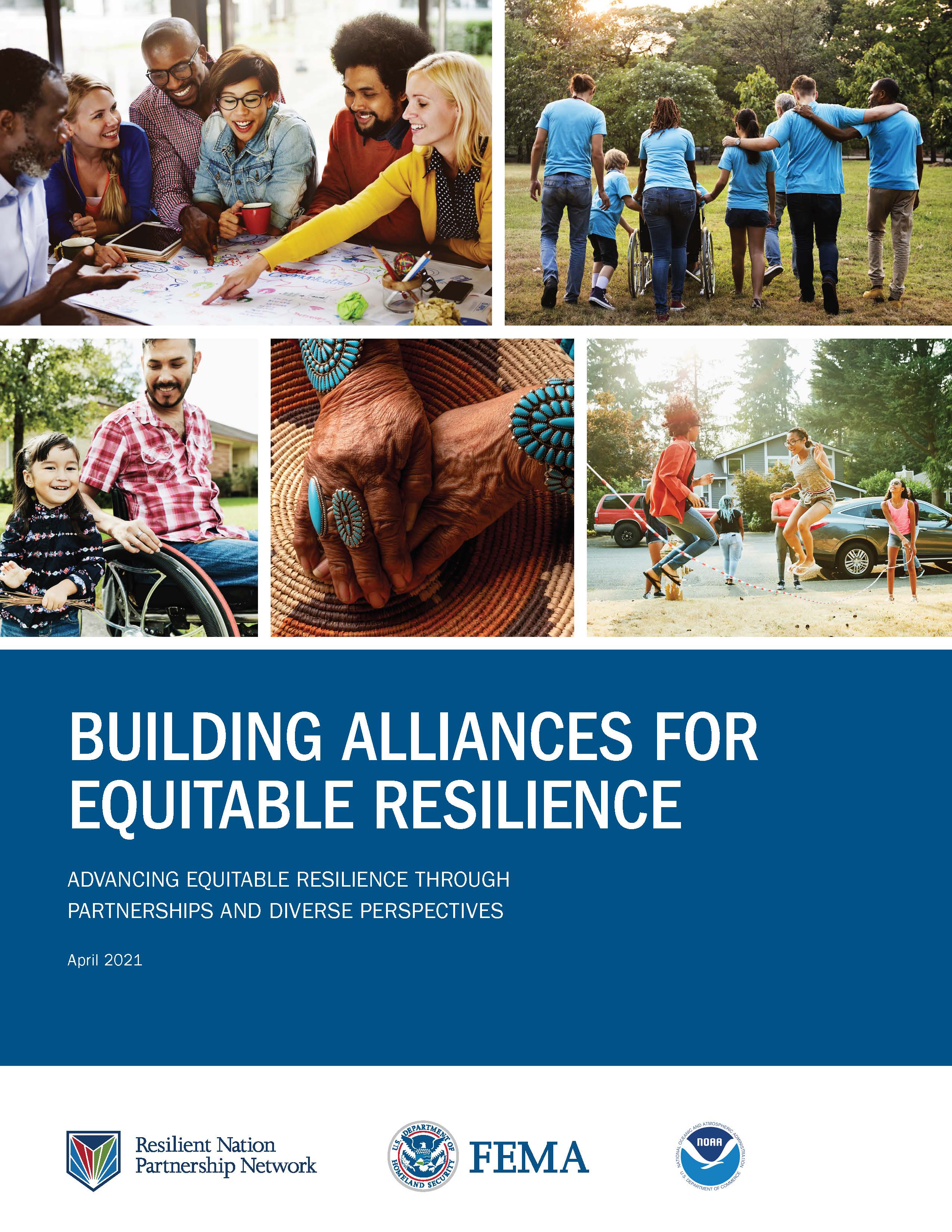 The Resilient Nation Partnership Network is pleased to share Building Alliances for Equitable Resilience. This resource is the result of collaboration by 26 partners in the fields of equity and resilience. Through it, we seek to inspire the whole community to make equitable and resilient practices part of their day-to-day activities. Readers will find guidance, perspectives, personal stories, resources and more. While it is a first step in a long journey, we hope this leads to increased awareness, commitments, and action to make equitable resilience possible for all.
Download Resource
Upcoming Events
Our Story
It wasn't long ago the Resilient Nation Partnership Network (RNPN) was simply an idea. How do we develop a network that can drive actionable change to build a resilient nation? In 2015, the RNPN was formed to cultivate relationships with non-traditional organizations, bring new voices to the table, and advance the resilience conversation. These continue to be core values of our mission. We seek to enable greater collaboration to increase our collective impact nationwide.
The definition of resilience is broad. It can be challenging to make a concise statement. To classify resilience as a sector is more difficult than ever. What we have learned is that resilience truly has no sector. All organizations and individuals have a stake in creating a more equitable and resilient nation. None of us can do it alone. By placing the success of our partners first and foremost, our network continues to grow. What started as a handful of like-minded individuals has flourished to over 500 organizations. We are always welcoming new voices to join the conversation.
Partner Perspectives
"The RNPN provides a valuable one-stop-shop where we can stay up to date on the important disaster risk reduction work being done across sectors—from non-governmental organizations, to academia, to businesses—and share information about advancements in our own work. Through the network, we're also able to meet and learn from a diverse group of stakeholders with whom we don't typically interact, helping us find collaboration opportunities and innovate in ways that improve disaster response and resilience across the country."
– The Nature Conservancy
"Through the network's collaborative meetings, presentations, and forums, Habitat for Humanity International has formed new partnerships to strengthen our resilient building work across the United States. We are proud to be among this network of peers who share a vision where fewer families are displaced after a disaster and communities can rebound more quickly."
– Habitat for Humanity International
Join the Resilient Nation Movement
Graphic
Interested in joining or learning more? The RNPN is an opt-in, peer-to-peer network founded on leveraging knowledge to advance action.
We don't have a formal agreement with our partners. All we ask for is your participation, motivation, and collaboration. Working together in collective way and harnessing the power of many is more impactful than acting alone.
Email Us to Learn More
Graphic
The Resilient Nation Roundup Newsletter
Building a Network
Partners stay in touch year-round through various means of communication and engagement, including:
The Partnership Forum
The Partnership Forum is hosted by FEMA, and a partner organization each year. This event provides opportunities for partners to engage with other industry peers, opportunities to network, and to identify actionable future partnerships around a priority topic.
2020 "Alliances for Equity" Virtual Forum Series
In October 2020, the RNPN hosted this series in partnership with the National Oceanic and Atmospheric Administration. Throughout the month, 33 speakers representing 28 organizations discussed current challenges and actions to build a more equitable and resilient future. Recordings of each session are available on FEMA's YouTube channel.
Graphic
Quarterly Calls
The RNPN hosts Quarterly Calls which focus on a specific topic or theme. They feature a variety of speakers to reflect diverse perspectives. On previous calls, topics such as coastal resilience, insurance, and resilience and marginalized populations have been introduced.
Graphic
See Previous Call Recordings
The Resilience Exchange
These learning sessions are usually held at least once a month and in 2020 have primarily been in a virtual, online setting.
They provide a platform for partners to go in depth on a subject or topic, and share knowledge with others in the Resilient National Partnership Network.
Graphic
Past presenters include:
National Oceanic Atmospheric Administration (NOAA)
National Recreation and Park Association (NRPA)
The Union of Concerned Scientists
Mississippi River Communities and Towns Initiative
Enterprise Community Partners
International Code Council
DHS Center for Faith and Opportunity Initiatives
Mobilizing Resilience
The RNPN is founded on community and knowledge sharing. Partners receive access to a wide network of professionals in the resilience field. We collaborate to share information, data, tools, training, and speaking opportunities. The RNPN fosters opportunities for an open dialogue with peers and thought leaders or industry peers. It helps connect partners to fuel action at the national, state, local, tribal, and territorial levels and includes a range of private sector and nonprofit agencies and organizations.
Examples of actionable changes through RNPN collaboration efforts include:
Expanding Thought Leadership
June 2020
Due to the wide breadth of expertise represented, partners often leverage the RNPN to identify thought leaders, influencers and subject matter experts for various events.
In June 2020, leaders from Texas A&M University, the National Association for the Advancement of Colored People (NAACP), the National League of Cities (NLC), and the Bill Anderson Fund were introduced to the U.S. Chamber of Commerce Foundation and invited to lead important conversations around inequities in disaster preparedness and response.
"Through its vast network of partners, the Resilient Nation Partnership Network was able to collaborate with the U.S. Chamber of Commerce Foundation by lining up thought leaders to participate at its esteemed Building Resilience through Private-Public Partnerships Conference. Through the coordination of both the U.S. Chamber Foundation and the RNPN, four esteemed and expert voices representing three diverse sectors were brought to the table, adding tremendous value to this important dialogue."
– U.S. Chamber of Commerce Foundation
See Previous Mobilizing Resilience Events